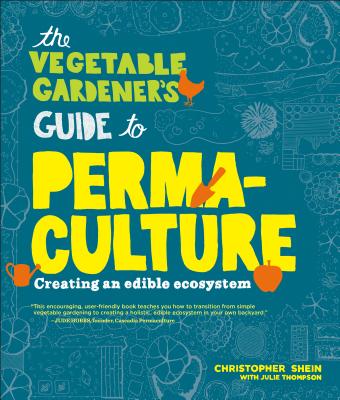 The Vegetable Gardener's Guide to Permaculture (Paperback)
Creating an Edible Ecosystem
Timber Press, 9781604692709, 272pp.
Publication Date: January 15, 2013
* Individual store prices may vary.
Description
"A masterful distillation of permaculture in a way that is easy to apply to our gardens, farms, and lives today." —David Cody, founder, Urban Permaculture Institute

Once a fringe topic, permaculture is moving to the mainstream as gardeners who are ready to take their organic gardening to the next level are discovering the wisdom of a simple system that emphasizes the idea that by taking care of the earth, the earth takes care of you.
The Vegetable Gardener's Guide to Permaculture teaches gardeners of every skill—with any size space—how to live in harmony with both nature and neighbors to produce and share an abundant food supply with minimal effort. Permaculture teacher Christopher Shein highlights everything you need to know to start living off the land lightly, including how to create rich, healthy, and low-cost soil, blend a functional food garden and decorative landscape, share the bounty with others, and much more.
About the Author
Christopher Shein has been a gardener in Berkeley and Oakland, California since 1993. He has started dozens of community gardens, school gardens, market gardens, and gardens in backards in centers serving the homeless. He teaches permaculture at Merritt Community College where he helped develop the award-winning student farm. Shein also owns Wildheart Gardens, a permaculture landscape business that designs and builds sustainable gardens. He graduated from the University of California, Santa Cruz, and earned his Permaculture Design Certificate at Linnaea Farm on Cortes Island, British Columbia. He lives with his wife, Dr. Runa Basu, D.O., and their daughters, Gitanjali and Bija Sol, in urban South Berkeley. 
Praise For The Vegetable Gardener's Guide to Permaculture: Creating an Edible Ecosystem…
"A useful and a wonderful resource whether you grow on a balcony, rooftop or in the ground. . . . will expand the scope from your own garden to the broader landscape and makes you very mindful of the impacts that our local agricultural practices have on the earth." —Yolanda Burrell, owner of Pollinate Farm and Garden Supply

"The book gives gardeners a wide variety of tools to begin to use the principles and techniques of this 'ancient yet cutting-edge technology.'" —Publishers Weekly

"Along with detailed plans and lavish illustrations, Shein's straightforward, practical guide describes techniques and deciphers terminology to encourage gardening practices built on principles of caring for the planet and sharing its bounty, whether one is feeding a family or a village." —Booklist

"Gardeners who are interested in experimenting with the permaculture approach to growing edibles would do well to use this book as a guide." —American Gardener
 
"Straightforward and engaging. . . . the book clearly outlines the steps you can choose to incorporate [permaculture] into your home landscape." —Garden Therapy

"Shein does an excellent job of explaining the concept of permaculture." —The Gardener

"The range of content in the book defines what permaculture is, how to apply these ideas in gardens, and ways to connect with community using a permaculture focus." —PLACE
 
"Shein offers plenty of color photos, diagrams and plans for turning a backyard garden into an edible ecosystem." —SF Gate

"I didn't read this book so much as devour it, and few books in recent years have inspired me more to continue my efforts to turn what little yard I have into an edible landscape." —East Oregonian
 
"If this is your first exposure to Permaculture: buy this book. If you know permaculture and want a way to share it with someone else. . . . pick up a copy, it's the right place for them, or you to start." —The Permaculture Podcast
 
"I love this book because not only does it get into the philosophy behind permaculture, it gives you examples of permaculture and the knowledge to design a permaculture system to fit your space and needs." —Fruhlingskabine Micro-Farm