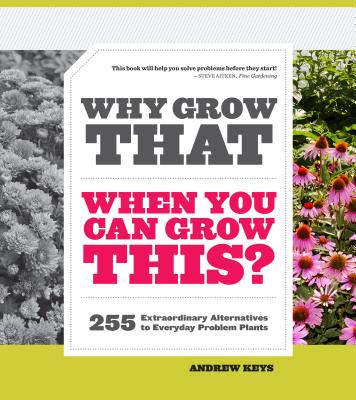 Why Grow That When You Can Grow This?
255 Extraordinary Alternatives to Everyday Problem Plants
Paperback

* Individual store prices may vary.
Description
It's a tired turn of phrase, but the grass is always greener on the other side. And for gardeners, it's not just the grass—it's the flowers, the shrubs, and the trees.
No longer! Pining to grow lilac but lack the full sun? Try the fragrant pink and white flowers of Korean spice viburnum. Love the drama of canna but need something hardier? Try the bold foliage of variegated fleece flower. Why Grow That When You Can Grow This? offers hundreds of all-star alternatives that replace—and often outshine—popular problem plants.
Garden designer Andrew Keys makes it easier than ever to skip over the fussy plant prima donnas and move toward the equally gorgeous understudies. Each profile shows the problem plant and offers three alternatives that include three or more of the original plant's characteristics—hardiness, shape, color, texture, light, and size.
With this fun and accessible guide, you can discover the secret to choosing the plants destined to be the new stars of your garden.
Praise For Why Grow That When You Can Grow This?: 255 Extraordinary Alternatives to Everyday Problem Plants…
"Landscape designer Keys lends helpful guidance for shaking up the standard fare in a garden with exciting alternatives. . . . This is a lively, helpful guide offering needed redress for the tired garden—and gardener." —Publishers Weekly

"Gardeners looking for vibrant inspiration will revel in Keys' innovative recommendations." —Booklist

"A fun, helpful tool for gardeners looking to expand their plant selections." —The Gardener

"Keys has done a remarkable job in spotlighting less common plants that deserve a place in your garden, wherever you live." —American Gardener

"Don't give up on growing your dream plants! With 250 suggestions, let this book be your guide to successful substitutes." —Garden Gate

"In this accessible book, Andrew Keys suggests 255 problem-solving alternatives to plants that, while popular, can be invasive or difficult to cultivate." —Martha Stewart Living

"It's nice to have this as a source book for choosing plants for my garden when I'm tired of pandering to something I already have or I'm ready for a change. Andrew's book can be a help towards gardening smarter, not harder!" —Horticulture

"This book is best suited to experienced gardeners who need a nudge to try a less common plant, or who are tired of the typical garden standbys and crave something different. Newly transplanted gardeners will also find it useful as they wrestle with the desire to plant beloved species from a far distant region and begin looking for regionally appropriate substitutes." —Digging

"Whether you are looking for trees, shrubs, vines, perennials, grasses, or groundcovers, you will find a way to have what you want. . . . Plenty of humor and lots of good suggestions will make this a popular choice for new homeowners as well as experienced gardeners." —Muskogee Phoenix

"Written in his hallmark playful, smart, and slightly tongue-in-cheek style, Keys' book compares some popular garden plants to the cast of characters we all remember from our high school days." —Garden of Possibilities

"The key to Keys is the way he nudges us out of our box, and gets us thinking. . . . This is 'teach a man to fish' stuff that will hold its value, no matter which new plant alternatives come along." —Toronto Gardens

"Seriously, this is funny stuff, while at the same time providing lots of creative substitutes that will give your garden more bang for its buck." —Gossip in the Garden
Timber Press, 9781604692860, 336pp.
Publication Date: November 13, 2012
About the Author
Andrew Keys is a writer, lifelong gardener, and author of Why Grow That When You Can Grow This?. Andrew's writing has appeared in This Old House Magazine and Fine Gardening, and he's produced podcasts for Fine Gardening and Horticulture Magazine. Andrew has lectured at the Philadelphia Flower Show, Boston Flower Show, Northwest Flower & Garden Show in Seattle, and others. He's trained as an organic land care professional by the Northeast Organic Farming Association.
or
Not Currently Available for Direct Purchase