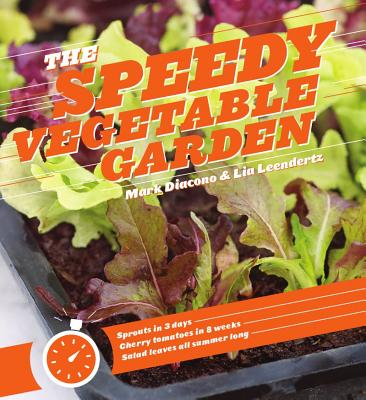 The Speedy Vegetable Garden (Paperback)
Timber Press, 9781604693263, 208pp.
Publication Date: January 15, 2013
* Individual store prices may vary.
Description
Typically, vegetable gardening is about the long view: peas sown in spring aren't harvested until summer, and tomatoes started indoors in February can't be eaten until July. But it's not true for all plants. Some things can be planted and eaten in weeks, days, even hours.

The Speedy Vegetable Garden highlights more than 50 quick crops, with complete information on how to sow, grow, and harvest each plant, and sumptuous photography that provides inspiration and a visual guide for when to harvest. In addition to instructions for growing, it also provides recipes that highlight each crop's unique flavor, like Chickpea sprout hummus, stuffed tempura zucchini flowers, and a paella featuring calendula.

Sprouted seeds are the fastest. Microgreens can be harvested in weeks: cilantro, 14 days after planting; arugula and fennel in 10 days. And a handful of vegetable varieties grow more quickly than their slower relatives, like dwarf French beans (60 days), cherry tomatoes (65 days), and early potatoes (75 days).

The Speedy Vegetable Garden puts fresh, seed-to-table food at your fingertips, fast!
About the Author
Mark Diacono runs the pioneering Otter Farm where he makes use of the changing climate to grow a wide range of food that is usually sourced from warmer climes. An award-winning journalist and photographer, Mark is also well known for his lectures, courses and work at River Cottage.
Lia Leendertz is a freelance journalist who writes for The Guardian and Gardens Illustrated, in addition to her award-winning blog. She studied horticulture at the Royal Botanic Gardens, Edinburgh, where she shares an allotment.
Praise For The Speedy Vegetable Garden…
"A colorful, mouth-watering guide to (almost) instant gratification in the garden. . . . For those looking for something new in the kitchen and the garden, this is an attractive guide." —Publishers Weekly

"With sources and index, this unusual vegetable-growing book should attract anyone interested in planting a kitchen garden." —Booklist

"Some people don't have room for an expansive garden. Others don't have the time. Lia Leendertz and Mark Diacono have solved both problems with The Speedy Vegetable Garden. Their 208-page book gives readers step-by-step instructions on how to grow and harvest fresh vegetables in the blink of an eye." —Chicago Tribune

"A book to order and have at your side when you are poring over seed catalogs." —Gardens Illustrated

"I absolutely love this book! I love the idea of learning how to sprout seeds, and knowing which types of foods can be grown in just a matter of days. What a great resource not only for everyday use, but for emergency situations as well!" —New Life on a Homestead

"An excellent reference book for anyone trying to get children interested in gardening, dealing with a short growing season, or simply lacking in patience." —Eat Drink Better

"This book makes vegetable growing fast, fun, and pain-free as it guides readers through cultivation, recommended varieties, and harvesting their new garden." —Michigan Gardener

"This will be the new go-to guide for sprouting and picking vegetable varieties that are quick to produce." —Garden Therapy

"The young authors provide plenty of photos, illustrations, recipes, and inspiration for those who have little space, not much time, or dwindling patience for growing a full-size garden. Plenty of how-to help is included." —Muskogee Phoenix Online