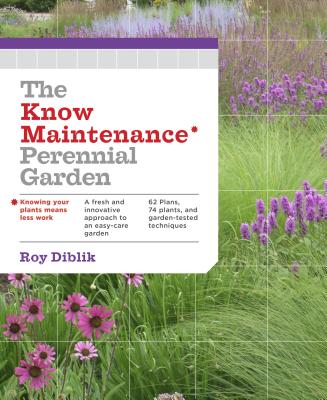 The Know Maintenance Perennial Garden
Paperback

* Individual store prices may vary.
Other Editions of This Title:
Hardcover (3/11/2014)
Description
"A veritable goldmine for gardeners." —Plant Talk

We've all seen gorgeous perennial gardens packed with color, texture, and multi-season interest. Designed by a professional and maintained by a crew, they are aspirational bits of beauty too difficult to attempt at home. Or are they?

The Know Maintenance Perennial Garden makes a design-magazine-worthy garden achievable at home. The new, simplified approach is made up of hardy, beautiful plants grown on a 10x14 foot grid. Each of the 62 garden plans combines complementary plants that thrive together and grow as a community. They are designed to make maintenance a snap. The garden plans can be followed explicitly or adjusted to meet individual needs, unlocking rich perennial landscape designs for individualization and creativity. 
Praise For The Know Maintenance Perennial Garden…
"[Diblik] appropriately starts the book off with chapters on understanding your garden (soil, light, shade), understanding plants (growth habits, flowers, foliage, stems, crowns), preparing and maintaining the site, and some likely plants to consider. Then comes the true treasure—chapter 6 has 62 planting plans, broken down into sun and shade, and then further into themes inspired by successful public plantings (the High Line, "Essence of Piet Oudolf") or even paintings (van Gogh's Poet's Garden)." —Landscape Architecture
 
"Diblik has codified a naturalistic, yet artistic, approach to building garden beds in the northern tier of North America. Soil composition and amount of sunlight form the starting point to finding a palette of plants sympathetic with a site. Diblik stresses intimate contact with your plants as it allows you to "know" them, the most important aspect of gardening in his opinion. Many inspiring photographs depict the colorful and textural results. Ornamental grasses figure prominently as a foil for the colorful blossoming plants. Themed templates, many titled after Impressionist paintings, will help readers knowingly plan their garden." —Country Gardens
 
"A stunning guide to creating nature inspired gardens. . . . Diblik, who supplied many of the plants for the award-winning Lurie Garden at Millennium Park in Chicago, offers up detailed information about 74 sturdy and appealing perennials in a photo-rich reference." —Chicago Tribune
 
"Perennial gardeners will appreciate The Know Maintenance Perennial Garden, a book based on the premise that knowing your plants helps you care for them more effectively, with less work." —Akron Beacon Journal
 
"Diblik explains the concepts behind self-sustaining plant communities—plants that naturally grow well in harmony and require little maintenance, once established.  With Diblik's method, you can throw out the mulch, abandon staking, deadheading, the fertilizers and herbicides, the end-of-the-season cleanups.  Instead, you'll learn to understand how plants grow—their soil, water, and light requirements—and the easy ways to get what you want. . . . A wonderful book for homeowners and designers alike—it definitely belongs on your bookshelf." —Garden Design Online
 
"A straightforward, easy-to-follow guidebook for planting design success, suitable for the homeowner and professional alike." —The Designer

"A book for thinking gardeners who really want to take the time to know their plants and understand how their plants live and work together as a sustainable community. Armed with this knowledge, gardeners will be free to actually spend time enjoying their gardens." —A Garden of Possibilities
 
"If you're dreaming of a low-maintenance, lush, perennial garden this spring, then Roy Diblik's new book should be your planting bible. It provides dozens of fresh, detailed plans and gorgeous color photographs of easy-care yet stunningly artistic gardens." —Garden Variety News
 
"The first half of the book covers site preparation, planting, care, maintenance, and of course, key plants for the author's 'know maintenance' system. Diblik shows you how to reduce garden chores to only minutes a week. You will learn when to plant and water, and how to weed strategically." —Michigan Gardener
 
"Diblik gives plant combination advice to make his lower maintenance, sustainable, and environmentally friendly technique work well and provide beauty year round." —Journal Times
 
"The nuts and bolts of success with perennial flowers along with 62 sample garden designs and 74 high-performing, low-care perennial plants." —Patriot-New
Timber Press, 9781604693348, 216pp.
Publication Date: March 11, 2014
About the Author
Noted plantsman and designer Roy Diblik has spent more than 30 years studying, growing, and enjoying plants. His passion for native plants and other perennials began with his work at the Natural Garden Nursery in St. Charles, Illinois, and has been cultivated through his establishment of Northwind Perennial Farm, a nursery in Burlington, Wisconsin. Roy's recent work includes a planting of the new Oceanarium at the Shedd Aquarium in Chicago and a garden for the Modern Wing of the Art Institute of Chicago. He is best known as the plantsman behind Piet Oudolf's midwestern garden designs, including the Lurie Garden at Millennium Park in Chicago. He is a sought-after speaker and regularly addresses audiences across the country.