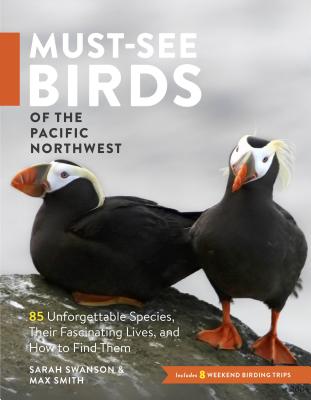 Must-See Birds of the Pacific Northwest
85 Unforgettable Species, Their Fascinating Lives, and How to Find Them
Paperback

* Individual store prices may vary.
Description
Must-See Birds of the Pacific Northwest is a lively, practical guide that helps readers discover 85 of the region's most extraordinary birds. Each bird profile includes notes on what they eat, where they migrate from, and where to find them in Washington and Oregon. Profiles also include stunning color photographs of each bird. Birds are grouped by what they are known for or where they are most likely to be found—like beach birds, urban birds, colorful birds, and killer birds.

This is an accessible guide for casual birders, weekend warriors, and families looking for an outdoor experience. Eight easy-going birding weekends, including stops in Puget Sound, the Central Washington wine country, and the Klamath Basin, offer wonderful getaway ideas and make this a must-have guide for locals and visitors alike.
Praise For Must-See Birds of the Pacific Northwest: 85 Unforgettable Species, Their Fascinating Lives, and How to Find Them…
"Looks like a field guide, reads like a travel book. This accessible guide will appeal to less experienced birders as well as visitors to the Pacific Northwest." —Library Journal

"A delightful work by two exceptionally talented natural history writers that will not fail to enlighten the reader—regardless of his or her previous experience with the region—about the fascinating birdlife to be found in one of the world's most beautiful and naturally diverse areas. It is whole-heartedly recommended to all." —Bird Watcher's Digest

"Some of us don't know a cedar waxwing from a belted kingfisher—but Sarah Swanson sure does…Besides profiling 85 flying fiends of the Northwest, the book traces eight weekend birding vacations." —Seattle Met Blog
 
"Oregonians Swanson and Smith take a practical approach to regional bird-watching with 85 lucid descriptions of notable Northwest species." —Alaska Airlines Magazine

"Divided into sections such as "Beach Birds," "Big Birds," "Tree Trunk Birds," and "Urban Birds," their tome tells the stories of each species, illustrated by sumptuous photographs and, most helpful, where to find them. It closes with eight distinct weekend birding trip itineraries." —Cascadia Weekly

"This bird book is blissfully unscientific. It's not that science is bad when birds are involved, it's just nice that someone has found a new way to present descriptions of 85 of our favorite birds in Oregon and Washington…among them are big birds, colorful birds and urban birds." —The Oregonian

"The photos are gorgeous, and the informative writing is a true pleasure to read. . . . This book will get you outside, make you slow down, look and listen." —Travel Oregon

"Must-See Birds lists some of the prime locations for spotting each species, and also proposes several weekend birding trips. . . . whether you have a yen to spot a pelican, a wigeon, or a woodpecker, this is a congenial book—interesting to read through, and even more fun to put to use!" —The Bellingham Herald

"A charming guide presented somewhere in between a handbook and a bookshelf reference, and it feels just right. . . . Swanson and Smith would be good fun on a weekend birding trip." —The Register-Guard

"This book is about the experience and the fun of looking for birds and appreciating them as part of our small but spectacular region of the world." —Exploring Portland's Natural Areas
Timber Press, 9781604693379, 244pp.
Publication Date: August 27, 2013
About the Author
Sarah Swanson is an enthusiastic birder who especially enjoys birding Oregon's pine forests and coastal bays. She loves to get people excited about birds and leads field trips for Audubon Society of Portland.
Max Smith is a wildlife biologist currently working with the U.S. Forest Service. His research covers hummingbirds, desert fish, and rare wetland ecosystems. He met his coauthor, Sarah Swanson, in graduate school when they were studying birds in the same lab, and they have been birding together ever since. With their dog, Andie, they split their time between Portland and Pacific City, Oregon.