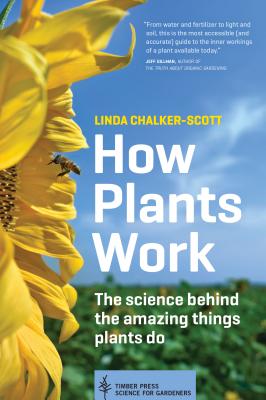 How Plants Work (Paperback)
The Science Behind the Amazing Things Plants Do
Timber Press, 9781604693386, 236pp.
Publication Date: April 22, 2015
* Individual store prices may vary.
Description
The more you know, the better you grow!

Plants are capable of interesting and unexpected things. Why do container plants wilt when they've been regularly watered? Why did the hydrangea that thrived last year never bloom this year? Why do slugs wipe out the vegetable garden instead of eating the weeds? Plant physiology—the study of how living things function—can solve these and most other problems gardeners regularly encounter.
In How Plants Work, horticulture expert and contributor to the popular blog The Garden Professors, Linda Chalker-Scott brings the stranger-than-fiction science of the plant world to vivid life. She uncovers the mysteries of how and why plants do the things they do, and arms the home gardener with fascinating knowledge that will change the way they garden.
About the Author
Dr. Linda Chalker-Scott has a PhD in horticulture from Oregon State University and is an ISA certified arborist, an ASCA consulting arborist, and an award-winning author. She is Washington State University's extension urban horticulturist and an also teaches at the University of Washington. Chalker-Scott has published extensively in the scientific literature and in popular magazines including American Nurseryman, Organic Gardening, and Fine Gardening. She also is one of the Garden Professors.
Praise For How Plants Work: The Science Behind the Amazing Things Plants Do…
"Linda removes much of the mystery from gardening, replaces it with reliable knowledge, and does it all while retaining the wonder that makes this activity so inspiring." —Steve Aitken, editor of Fine Gardening
 
"From water and fertilizer to light and soil, this is the most accessible (and accurate) guide to the inner workings of a plant available today." —Jeff Gillman, author of The Truth About Organic Gardening and The Truth About Garden Remedies

"If you've ever wondered, 'Why did my plant do that?,' look no further. Linda Chalker-Scott lays out the science behind garden plants in a buoyant, readable guide that you'll be turning to for years to come." —Billy Goodnick, landscape architect, author, and educator

"How Plants Work by Linda Chalker-Scott should ease our minds and lighten our workloads. She does a terrific job with the science of cell structure and explains why sunflowers turn to the sun, why tulips close up at night and loads of other fascinating tidbits." —New York Times Book Review

"In her engaging, myth-busting book, Chalker-Scott opens up the wonders and curiosities of plant physiology. She not only makes us care about cell membranes, mitochondria and root stress, but leaves us eager to learn more." —Seattle Times

"Using real-life situtations and a conversational style, Chalker-Scott makes the science of growing things simple for home gardeners. Readers of this book will be able to make more informed choices in gardening practices." —Houston Herald

"This book by Linda Chalker-Scott arms gardeners with hard science while relating information in an accessible and entertaining voice. . . . I can't think of a better way to pass the winter months." —The Star Press

"Linda Chalker-Scott has become a champion for evidence-based horticulture by citing scientific studies to debunk gardening practices and products that simply don't work. In her new book. . . . she uses real-life situations, explanatory color photographs and drawings, and her signature colloquial style to make the science of plant processes accessible to home gardeners." —The American Gardener

"Loads of tips on planting, watering, fertilizers, weeds, what causes plant problems and much more. Yes, it will help you change the way you garden." —Garden Design Online

"The author presents a holistic view of the anatomy and physiology of plants. . . . This would be an excellent resource for gardeners, science projects for students, and in a botany class."—National Science Teachers Association

"This 235-page, easy-to-understand guide presents information on plant physiology. . . . in a clear and logical way for gardeners." —The Oregonian

"One of the most engrossing and useful books on gardening I've found in a very long time." —Forest Garden Blog