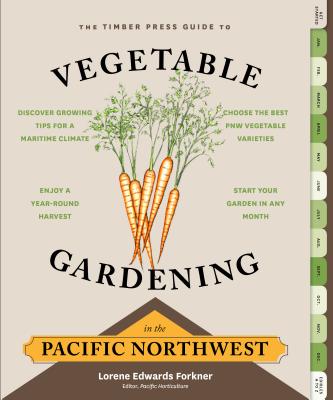 The Timber Press Guide to Vegetable Gardening in the Pacific Northwest (Regional Vegetable Gardening Series)
Paperback

* Individual store prices may vary.
Description
How to grow your own food in the Pacific Northwest!

There is nothing more regionally specific than vegetable gardening. What to plant, when to plant it, and when to harvest are unique decisions based on climate, weather, and first and last frost.
The Timber Press Guide to Vegetable Gardening: Pacific Northwest is a growing guide that truly understands the unique eccentricities of the Northwest growing calendar. The month-by-month format makes it perfect for beginners and accessible to everyone—you can start gardening the month you pick it up. Starting in January? The guide will show you how to make a seed order, plan crop rotations and succession plantings, and plant a crop of microgreens. No time to start until July? You can start planting beets, carrots, chard, kale, parsnips, and spinach for an early fall harvest.
 
This must-have book is for gardeners in Oregon, Washington, southeastern Alaska, and British Columbia.
Praise For The Timber Press Guide to Vegetable Gardening in the Pacific Northwest (Regional Vegetable Gardening Series)…
"Straightforward, clear and packed with information." —Pacific Northwest Magazine

"This is the book that I would give to a neighbor or friend looking to get started at vegetable gardening in the Pacific Northwest." —Garden Therapy

"The perfect guide to pick up right now to get started on our gardens! Forkner…has done a superb job of gathering pertinent information for this fantastic growing area and the types of vegetables we can plant here." —NW Book Lovers

"A growing guide that truly understands the unique eccentricities of the Northwest growing calendar." —City Farmer News

"A great new addition to the all-season gardener's book shelf—a modern, concise and accessible guide that assumes we will be actively planning, working and harvesting in our gardens more or less all year round." —The Eugene Weekly

"So simple and clear to understand." —Adventures in Dressmaking

 
Timber Press, 9781604693515, 232pp.
Publication Date: January 22, 2013
About the Author
Lorene Edwards Forkner is the author of several gardening books, including Hortus Miscellaneous, Growing Your Own Vegetables, and Canning and Preserving Your Own Harvest. Her writing has appeared in several national and regional publications including Organic Gardening, MaryJane's Farm, Northwest Garden News, and Edible Seattle. Supported by a degree in fine art and years of experience owning and operating Fremont Gardens, a specialty retail nursery in Seattle, Washington, Lorene is a popular speaker, eager to weigh in on horticultural mysteries, offer direction for design conundrums, and teach DIY gardeners.