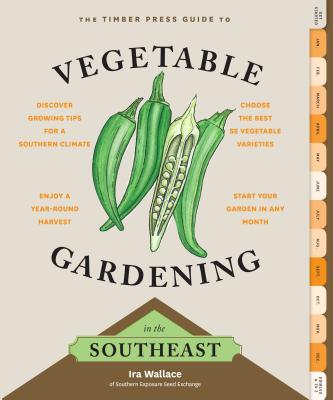 The Timber Press Guide to Vegetable Gardening in the Southeast (Regional Vegetable Gardening Series)
Paperback

* Individual store prices may vary.
Description
How to grow your own food in the Heartland!

There is nothing more regionally specific than vegetable gardening—what to plant, when to plant it, and when to harvest are decisions based on climate, weather, and first frost The Timber Press Guide to Vegetable Gardening in the Southeast tackles this need head on, with regionally specific growing information written by local gardening expert, Ira Wallace. Monthly planting guides show exactly what you can do in the garden from January through December. The skill sets go beyond the basics with tutorials on seed saving, worm bins, and more.

This must-have book is for gardeners in Alabama, Arkansas, Florida, Georgia, Kentucky, Louisiana, Maryland, Mississippi, North Carolina, South Carolina, Tennessee, Virginia, and West Virginia. 
Praise For The Timber Press Guide to Vegetable Gardening in the Southeast (Regional Vegetable Gardening Series)…
"I've taken inspiration (and bought seeds) from the Southern Exposure Seed Exchange catalogue, so when I saw that one of its worker/owners, Ira Wallace, had published The Timber Press Guide to Vegetable Gardening in the Southeast, I spent much of January poring over her friendly, no-nonsense advice." —The Washington Post 

"An absolute delight to look at and to hold. . . . a gardening book that you will want to refer to often." —Washington Gardener 

"It'll turn even an apprehensive dirt-digger into an obsessive vegetable gardener, and a successful one at that." —Garden & Gun 

"Her broad gardening experience is the source of some fantastic advice. . . . There is much to learn here." —Lexington Herald-Leader

"A detailed, invaluable source for tried-and-tested varieties of the Southeast. Timber Press could not have selected a better author for this guide. Ira Wallace is a legend among followers of the organic gardening movement and champions of heirloom vegetable preservation." —Southern Garden Society

"Are you interested in harvesting your own crops and would like to know the best way to do so? This guide for Southern gardeners is the perfect tool for that and more. Ira Wallace shares tips on the appropriate month to plant your favorite crop, how to grow and harvest it, how to avoid tips on bugs and weeds, and much more." —Mississippi Magazine 

"If the fresher taste and greater nutrition of locally grown foods have you yearning to become a better gardener, The Timber Press Guide to Vegetable Gardening in the Southeast should be required reading." —Triangle Gardener 

"Widely regarded as the book on year-round gardening in the Southeast." —C-Ville Weekly  

"This compilation of tips for our climate, the names of reliable regional varieties, and the encouragement to start in any month and harvest in every month, is valuable beyond price." —Sustainable Market Farming
Timber Press, 9781604693713, 216pp.
Publication Date: December 31, 2013
About the Author
Ira Wallace serves on the board of the Organic Seed Alliance and is a worker/owner of the cooperatively managed Southern Exposure Seed Exchange, which offers over 700 varieties of open-pollinated heirloom and organic seeds selected for flavor and regional adaptability. She is also an organizer of the Heritage Harvest Festival at Monticello, a fun, family-friendly event featuring an old-time seed swap, local food, hands-on workshops, demos, and more. She currently writes about heirloom vegetable varieties for magazines and blogs including Mother Earth News, Fine Gardening, and Southern Exposure.