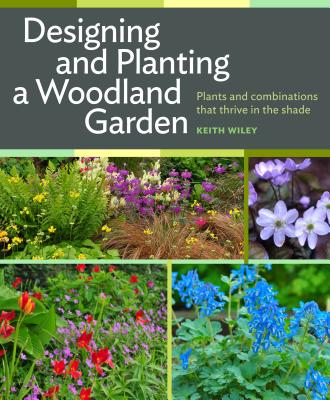 Designing and Planting a Woodland Garden (Hardcover)
Plants and Combinations that Thrive in the Shade
Timber Press, 9781604693850, 228pp.
Publication Date: December 21, 2014
* Individual store prices may vary.
Description
From the creator of "one of the most exciting and innovative gardens in Britain today"

With their moss-covered stones, towering trees, and pockets of quiet shade, woodlands have a romantic power unlike anything else. Whether your garden is currently open and sunny, or on the small side, you can capture that sylvan atmosphere with carefully chosen trees and shade-loving plants. In Designing and Planting the Woodland Garden, Keith Wiley explains how to combine plants in natural, self-supporting colonies. His hand-picked selection of unexpected collectables—shrubs, perennials, bulbs, ferns, and grasses—mingle with garden favorites to create fabulous effects in all seasons.
About the Author
After obtaining an honors degree in horticulture from London University, Keith Wiley spent twenty-five years as head gardener at The Garden House in Devon. The garden he created there was described by national commentators as "one of the most exciting and innovative gardens in Britain today" and the best example of "leading-edge horticulture" in the UK. Wiley is a regular contributor to horticultural and lifestyle magazines, and has appeared on many gardening television programs in the UK. Over the last ten years, he and his wife have created a new garden from a bare field at Wildside, where they run their own nursery.
Praise For Designing and Planting a Woodland Garden: Plants and Combinations that Thrive in the Shade…
"The wonder of woodland gardening is that it looks like plants grow themselves there. After reading this book and following its guidelines, gardeners can make that happen." —Publishers Weekly
 
"Wiley developed proven techniques that can be executed by gardeners of all proficiencies." —Booklist

"There are plenty of books out there about shady gardens, but this one actually tells you how to create a woodland if you want one and don't have one…There's something in this book for everyone, and a nice find under any gardener's Christmas tree." —Garden Design Online

"Plantsman and woodland enthusiast Keith Wiley offers up many suggestions for carpeting the ground beneath shrubs and deciduous trees with familiar plants and those that are less well known." —Scottish Gardener
 
"Keith Wiley demonstrates how even the smallest garden can capture the magic of woodlands, using carefully chosen plants that will thrive together, and even how to create shade if you don't have it." —The Countryman
 
"Combining time-tested familiar plants with lesser-known varieties, Designing and Planting a Woodland Garden walks readers through the process of cultivating an enchanting outdoor space, inspired by the diversity and freedom of woodlands. Charmingly written and illustrated, this book gives detailed accounts of shade-loving plants and how to grow them. A wonderful book for anyone looking to add a touch of the wild to their garden." —Landlove