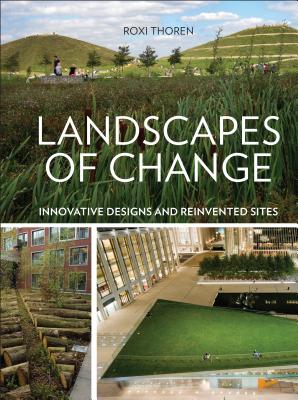 Landscapes of Change (Paperback)
Innovative Designs for Reinvented Sites
Timber Press, 9781604693867, 264pp.
Publication Date: December 21, 2014
* Individual store prices may vary.
Description
Climate change, natural resource use, population shifts, and many other factors have all changed the demands we place on landscape designs. Projects now have to help connect neighborhoods, absorb stormwater, cool urban centers, and provide wildlife habitats. Landscapes of Change examines how these challenges drive the design process, inspire new design strategies, and result in innovative works that are redefining the field of landscape architecture. 

In 25 case studies from around the world, Roxi Thoren explores how the site can serve as the design generator, describing each project through the physical, material, ecological, and cultural processes that have shaped the site historically and continue to shape these ground-breaking projects. 
About the Author
Roxi Thoren is an associate professor of architecture and landscape architecture at the University of Oregon and director of the Fuller Center for Productive Landscapes. She holds master's degrees in architecture and landscape architecture from the University of Virginia. She is a Fulbright fellow (Iceland), a Landscape Architecture Foundation research fellow, and a recipient of multiple awards including research and design awards from the Council of Educators in Landscape Architecture, the American Society of Landscape Architects, and the Council of Landscape Architectural Registration Boards.
Praise For Landscapes of Change: Innovative Designs for Reinvented Sites…
"Landscape architects and urban dwellers alike will find pleasure and hope in these imaginative integrations of nature and city." —Publishers Weekly
 
"Thoren illuminates new approaches to landscape architecture in response to today's most challenging infrastructure problems, celebrating visionary landscape architects and more than two-dozen stunning, forward-looking site that incorporate and highlight natural systems with urban, suburban, and rural environments." —Booklist American architecture roundup 

"Taking readers on an intriguing international journey, Thoren eloquently profiles the vanguard of imaginative, artistic, and inspired designers who are creating an invaluable legacy for their profession and the land itself." —Booklist

"This is an important survey of contemporary landscape architecture and its ability to meet environmental and urban challenges that are taking place all over the world." —Garden Design Online

"Experiencing Landscapes of Change will color the way you look at vacant lots, abandoned structures, playgrounds, parks and pavement. You will imagine more than you see. And because of this book and the realized visions within, you'll know your imaginings can become realities." —The Register-Guard
 
"The book presents a compelling and modern vision of landscape architecture." —The Dirt