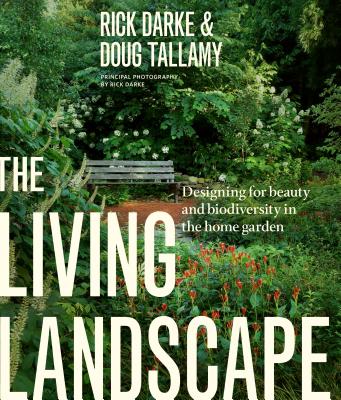 The Living Landscape (Hardcover)
Designing for Beauty and Biodiversity in the Home Garden
Timber Press, 9781604694086, 392pp.
Publication Date: July 1, 2014
* Individual store prices may vary.
Description
Many gardeners today want a home landscape that nourishes and fosters wildlife. But they also want beauty, a space for the kids to play, privacy, and maybe even a vegetable patch. Sure, it's a tall order, but The Living Landscape shows how to do it. By combining the insights of two outstanding authors, it offers a model that anyone can follow. Inspired by its examples, you'll learn the strategies for making and maintaining a diverse, layered landscape—one that offers beauty on many levels, provides outdoor rooms and turf areas for children and pets, incorporates fragrance and edible plants, and provides cover, shelter, and sustenance for wildlife. Richly illustrated with superb photographs and informed by both a keen eye for design and an understanding of how healthy ecologies work, The Living Landscape will enable you to create a garden that is full of life and that fulfills both human needs and the needs of wildlife communities.
About the Author
Rick Darke is a landscape design consultant, author, lecturer, and photographer based in Pennsylvania who blends art, ecology, and cultural geography in the creation and conservation of livable landscapes. His projects include scenic byways, public gardens, corporate and collegiate campuses, mixed-use conservation developments, and residential gardens. Darke served on the staff of Longwood Gardens for twenty years and received the Scientific Award of the American Horticultural Society. His work has been featured in the New York Times and on National Public Radio. Darke is recognized as one of the world's experts on grasses and their use in public and private landscapes. For further information visit www.rickdarke.com.
Douglas W. Tallamy is a professor of entomology and wildlife ecology at the University of Delaware. He has been awared a silver medal by the Garden Writers' Association, the Garden Club of America Margaret Douglas Medal for Conservation, and the Tom Dodd, Jr. Award of Excellence. Tallamy is a regular columnist for Garden Design Magazine.
Praise For The Living Landscape: Designing for Beauty and Biodiversity in the Home Garden…
"This thoughtful, intelligent book is all about connectivity, addressing a natural world in which we are the primary influence." —The New York Times Books Review
 
"Two giants of the natural gardening world, Rick Darke and Doug Tallamy, have collaborated on their best work yet." —The New York Times
 
"Gives meaningful definition to the idea of biodiversity . . . . the book offers guidance for creating beautiful landscapes that will be durable and "support life without sacrificing aesthetics." —Publishers Weekly
 
"Essential for gardeners and nature lovers interested in sustainability." —Booklist 
 
"A fascinating and beautiful book on creating gardens for wildlife." —Library Journal

"Together [Darke and Tallamy] explain how to create a beautiful home landscape that nourishes and fosters wildlife." —Garden Design Magazine

"With beautiful photos and many examples, they argue eloquently that gardens can be civilized, lovely and even elegant while incorporating local plants and creating habitat for birds and the entire ecosystem in which they live." —Chicago Tribune

"A rich guide on creating sustainable landscapes." —Sunset
 
"Will become the most popular book of the decade." —Real Dirt 
 
"Here's the book of the season, worth contemplating all winter long for the heartfelt and elegant practicality of its environmentalism. . . . Darke's beautiful photos stress the interconnectedness of nature, while illustrating how to create healthy ecosystems that serve humans, plants, animals, insects and birds." —Pacific Northwest Magazine
 
"Striking images." —Coastal Homes

"The Living Landscape will enable you to create a garden that is full of life and fulfills both human needs and the needs of wildlife communities." —The Detroit News
 
"The Living Landscape by Rick Darke and Doug Tallamy is a beautiful guide to creating and maintaining a landscape that is not only beautiful and functional for its human inhabitants but also offers food and shelter for wildlife." —Daily Herald
 
"Both a primer on how landscapes develop in the wild and a manual for learning how to observe wild areas and then apply nature's principles to your own garden, the book has breathtaking photographs by the authors of wildlife including birds, butterflies, moths, turtles, and bees luxuriating in habitats provided by gardens designed with their needs in mind." —Gardenista