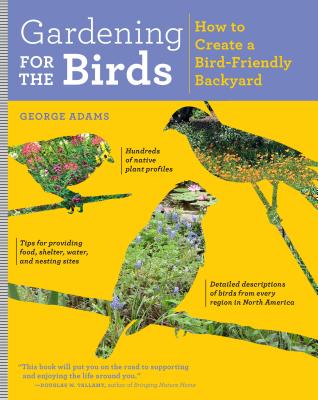 Gardening for the Birds (Paperback)
How to Create a Bird-Friendly Backyard
Timber Press, 9781604694093, 444pp.
Publication Date: July 2, 2013
* Individual store prices may vary.
Description
"An engaging and inspiring comprehensive guide." —Booklist

"A great benefit of creating a bird-friendly landscape is enjoying your garden while watching a bluebird dropping in for a worm in a freshly dug patch, a phoebe snapping at insects, or a hummingbird probing nectar-rich flowers while robins sing in the trees." With the right native plants, arranged to mimic natural ecosystems, you will provide birds with food, water, shelter, and nesting places. Instead of just visiting your garden to snack, birds will call it home! George Adams offers close-up profiles of birds from across all regions of North America to teach you their nesting, breeding, and feeding habits along with guidance for regional plant selection and garden design. 
About the Author
George Adams is a landscape designer, wildlife artist, photographer, writer, and traveler. Drawing on a lifelong interest in natural science and concern for the damage inflicted by the built environment on the natural world, he developed a concept for landscaping in which birds and other wildlife are a vital part of the garden's design.
Praise For Gardening for the Birds: How to Create a Bird-Friendly Backyard…
"Adams' how-to involves the use of native plants as the central structure both for building a cozy bird-welcoming ecosystem and aiding the preservation of North America's distinctive natural heritage. He provides steps for planning, which include providing food, shelter, water, and nesting sites and planting wildflowers. . . . an engaging and inspiring comprehensive guide." —Booklist
 
"Helpfully detailed and brightly illustrated information about horticulture and garden design strategies. . . . this book will draw birders to gardening; gardeners to birding; and non-gardeners and non-birders to both. The charts are easy to read and the information about birds and bushes is accessibly organized, offering a sublime adventure for the average gardener." —Publishers Weekly

"A beautiful and comprehensive guide. . . . packed with hundreds of color photos of American birds—fiery cardinals, tawny sparrows, blazing bluebirds—and the vast array of attractive plants they prefer for feeding and nesting." —Chicago Tribune

"Adams has written this informative guide to help make even the simplest backyard more hospitable to birds." —Better Homes and Gardens

"If you'd like to create welcoming habitat for the birds most likely to occur in your area, this is the ultimate guide to help you make the best plant selections for doing so." —American Gardener

"If you own only one book about attracting birds—Gardening for the Birds has all the useful information you will need to create your own bird sanctuary in your own garden." —Birds and Blooms

"Among the best we've seen. . . . Adams describes how to develop a landscape plan, lists the best native plants for five regions of North America, and plots blooming times for hummingbird and butterfly flowers." —BirdWatching

"Gardening for the Birds is packed with interesting, useful information about both birds and the native plants they depend on, but it's truly beautiful too. The photographs are excellent, the layout is gorgeous, and there are impressive pen and ink illustrations by the author himself. I would go so far as to say that everyone interested in wildlife gardening should have this book! I have not seen a more thorough treatment of the subject by anyone for the home gardener, and the presentation is a quite a treat as well." —A Charlotte Garden

"This is a very good book about gardening for birds. . . . a fine choice if you're at all interested in attracting birds by gardening for them." —The Metropolitan Field Guide

"Whether you're a gardener who's new to birding or a birder who's new to gardening, I think you'll find Gardening for the Birds: How to Create a Bird-Friendly Backyard a valuable resource and one of those go-to book on your gardening, or is it birding, bookshelf." —Native Plants and Wildlife Gardens