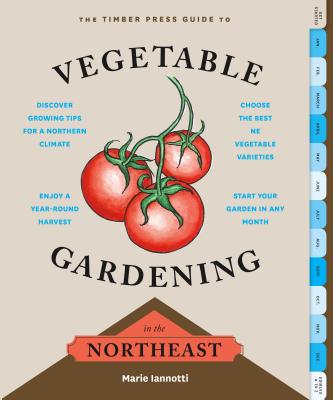 The Timber Press Guide to Vegetable Gardening in the Northeast (Regional Vegetable Gardening Series) (Paperback)
Timber Press, 9781604694215, 232pp.
Publication Date: December 31, 2013
* Individual store prices may vary.
Description
Growing vegetables requires regionally specific information—what to plant, when to plant it, and when to harvest are based on climate, weather, and first frost. The Timber Press Guide to Vegetable Gardening in the Northeast tackles this need head on, with regionally specific growing information written by local gardening expert, Marie Iannotti. This region includes Connecticut, Delaware, Maine, Massachusetts, New Hampshire, New Jersey, New York, Pennsylvania, Rhode Island, and Vermont. The southernmost parts of Ontario, New Brunswick, Novia Scotia, and Quebec are also included.

Monthly planting guides show exactly what you can do in the garden from January through December. The skill sets go beyond the basics with tutorials on seed saving, worm bins, and more.
About the Author
Marie Iannotti is an avid gardener, writer, photographer, and speaker. She is a Master Gardener Emeritus, as well as a former Cornell Cooperative Extension Horticulture Educator. She was the gardening expert at About.com for over a decade, and her writing has been featured in outlets nationwide. You can find out more at marieiannotti.com.
Praise For The Timber Press Guide to Vegetable Gardening in the Northeast (Regional Vegetable Gardening Series)…
"Invaluable advice for growing your own food." —New Living Magazine 

"The writing here is as crisp as the layout, which uses colored page edges and a simple, slightly-New Englandy sense of style to get it's point across. Best of all, it's hard to think of anything NOT covered here. . . and yet there's no sense of the text book in these pages, and only that homey feel one gets while actually gardening. Nicely done." —Woodstock Times 

"This guide to gardening in our neck of the woods covers all the basics, one month at a time." —Cape Cod Times 

"This book is everything a backyard gardener could want in an instructional guide. . . . Whether you are a newbie gardener or a gardening veteran, there will be something to learn with this book." —The Revolving Bookcase