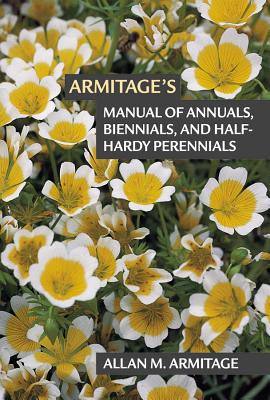 Armitage's Manual of Annuals, Biennials, and Half-Hardy Perennials
Paperback

* Individual store prices may vary.
Description
In the tradition of his classic Herbaceous Perennial Plants, Allan M. Armitage has compiled descriptions and assessments of 245 genera of true annuals as well as plants that behave like annuals in USDA zones 1–7. Focusing on identifying the plants, successful culture, and their primary garden attributes, Armitage discusses 279 species in detail and summarizes the distinguishing features of hundreds of cultivars, many of which he has tested himself. Classics like begonias and pelargoniums are juxtaposed with newcomers from Australia, and all are subject to Armitage's critical eye.

This book is only available through print on demand. All interior art is black and white.
Praise For Armitage's Manual of Annuals, Biennials, and Half-Hardy Perennials…
"A complete book about temporal plants that grow in this region. There are more than 100 photos, but the information is the primary reason to get this tome." —The Washington Post 

"True to form, Armitage's humor accompanies his sage advice throughout the text. I predict that this book will become holy writ on the subject of annuals. And I confess that when it comes to a book written by Allan Armitage, I buy it unhesitatingly for the authority associated with the name and then find out all about the subject within." —Horticulture

"I have yet to see the perfect guide to annuals and tender perennials, but this new compendium by esteemed plantman Allan M. Armitage comes close." —Fine Gardening
 
Timber Press, 9781604694284, 604pp.
Publication Date: September 17, 2001
About the Author
Widely regarded as one of the world's foremost horticulturists, Allan M. Armitage is a professor at the University of Georgia, Athens, where he teaches, conducts research, and runs the University of Georgia Horticulture Gardens. He travels widely as a lecturer and consultant, and is the recipient of numerous awards including the Medal of Honor from the Garden Club of America and the National Educator Award from the American Horticultural Society. He is the author of nine other books. Armitage was honored with a Quill and Trowel award from the Garden Writers Association of America, and Greenhouse Grower magazine named him one of the ten most influential people or organizations—ever—in the floriculture industry for "encouraging growers to expand their markets with new annuals, cut flowers, and perennials."