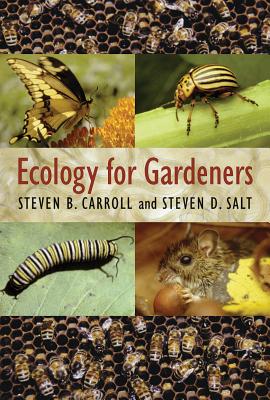 Ecology for Gardeners (Paperback)
Timber Press, 9781604694451, 420pp.
Publication Date: May 15, 2004
* Individual store prices may vary.
Description
Even a relatively small garden is a miniature ecosystem. It includes a surprising diversity of organisms that interact in a myriad of ways. Some are permanent residents, others come and go in search of a meal or a mate. An insect feeding on a garden plant is simultaneously hunted by predators and weakened by parasites; it competes with other herbivores for choice food plants; it is hindered in its feeding by the plants' chemical and physical defenses; and it challenges other members of its species for the best mates and locations for egg-laying. Ecologists Carroll and Salt argue that the more completely we understand these interactions, the better gardeners we become.

This book is only available through print on demand. All interior art is black and white.
About the Author
Steven B. Carroll is an ecologist at Truman State University in Kirksville, Missouri, where he teaches ecology and botany. He is particularly interested in pollination biology, plant reproduction, and problems posed by invasive species. Steve is also a Master Gardener. He lives with his wife and son on three mostly wooded acres, where the deer keep a close watch on their gardens.
Steven D. Salt holds a Ph.D. in biochemistry and microbiology and teaches college and university courses. He lives on Green Valley Farm in the forested hills of north-central Missouri, where he and his family raise vegetables, herbs, small fruits, and flowers that they sell at farmers' markets. Steve has written articles and given public presentations on vegetable and herb growing, small farm tools and techniques, and rural social issues.
Praise For Ecology for Gardeners…
"Carroll and Salt write with the home gardener in mind, opening up and illuminating a world of interactions taking place between plants of all sorts and the crowd of characters that may reside or simply pass through the garden. . . . The clarity of the writing style communicates enthusiasm and regard for the readers, showing Carroll and Salt to be excellent teachers who are able to explain, in accessible ways, concepts relating to plant botany, biology, and the environment." —Booklist

"Appeals to every piece of me that is naturalist as well as gardener." —American Gardener

"I found Ecology for Gardeners quite appealing. . . . It builds more than just a basic understanding of plant physiology and the interconnection of plant communities; it helps define our roles of stewards of the earth, encouraging us to make sure that the ecological role of our gardens is a positive one." —National Gardener

"There is much here to tantalize the gardener with a scientific bent." —Horticulture

"This book should be applauded." —Garden Compass

"Plenty of fun science, with practical advice on building and tending gardens that enhance rather than harm the environment." —Los Angeles Times

"How often I have wished for this book! . . . A book that clearly lays out the science of the garden ecology. . . . Carrol and Salt present the sometimes complex subject of garden ecology in an accessible and clear manner, and they write directly to their audience—gardeners." —Pacific Horticulture

"This gem of a book. . . . is sure to find an important place on the bookshelf of organic gardeners for years to come." —Seeds of Change

"For most gardeners, the more plants they grow, the more they want to know about how it happens. Here's where to find out." —The Oregonian

"An attractive guide." —Bookseller

"The authors have done a fantastic job of making the ecological part of gardening very accessible to gardeners. Readers will definitely understand more of the ecology that occurs in, around, and under the plants in their garden." —Contributions to Botany

"Ecology for Gardeners will inspire both ecologists and gardeners to analyze their gardens as ecosystems and explore the abiotic factors. . . . that affect garden health." —Leaf Litter