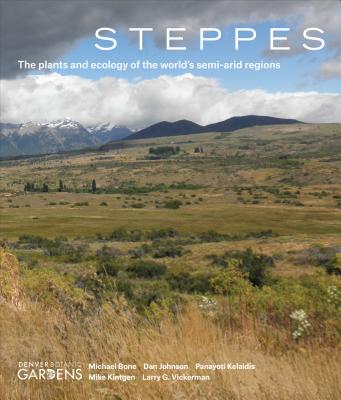 Steppes (Hardcover)
The Plants and Ecology of the World's Semi-arid Regions
Timber Press, 9781604694659, 360pp.
Publication Date: July 15, 2015
* Individual store prices may vary.
Description
Steppes—semi-arid biomes dominated by forbs, grasses, and grass-like species, and characterized by extremes of cold and heat—occupy enormous areas on four continents. Yet these ecosystems are among the least studied on our planet. Given that the birth and evolution of human beings have been so intimately interwoven with steppe regions, it is amazing that so few attempts have been made to compare and quantify the features of these regions. In this ground-breaking volume, five leading voices in horticulture—all staff members of Denver Botanic Gardens—examine the plants, climate, geology, and geography of the world's steppes: central Asia, central and intermountain North America, Patagonia, and South Africa. Drawing upon their first-hand experience, the writers illuminate the distinctive features of each region, with a particular emphasis on the striking similarities between their floras. Each chapter includes a primer of species of horticultural interest—a rich resource for readers with an interest in steppe plants.

About the Author
Michael Bone has focused his work on seed collection and the study of steppe plants and ecology. Most of his fieldwork has been in western North America, but he has traveled to Central Asia to study plants from the steppes and mountains there.

Dan Johnson travels throughout the West and Southwest in search of unusual and underused native plants for trial in Colorado's semi-arid steppe climate. His forays to similar regions of the world help further broaden the palette of plants suitable for western gardens. 

Panayoti Kelaidis represents Denver Botanic Gardens in educational, professional, and promotional endeavors as an expert in horticulture, science, and art. He has traveled to South Africa on seven occasions over the last twenty years. He is the recipient of the American Horticultural Society's 2009 Liberty Hyde Bailey Medal and the 2000 Arthur Hoyt Scott Medal from Swarthmore College.

Mike Kintgen oversees the Alpine Collections at Denver Botanic Gardens including the Rock Alpine Garden and South African Plaza. He has traveled widely both researching and lecturing internationally on Denver Botanic Gardens and its focus on semi-arid steppe and high-elevation floras of the world.

Larry G. Vickerman manages the 700-acre Chatfield site for Denver Botanic Gardens, which features a working farm, historic buildings, native plant gardens, and habitat restorations. He spent 10 years managing a botanical garden in the Great Plains propagating and growing the indigenous plants for introduction into the horticultural industry. A self-described prairie enthusiast, he recently visited mountain and desert steppe environments in Mongolia.
Green inside and out, Denver Botanic Gardens began in 1951 and is considered one of the top botanical gardens in the United States and a pioneer in water conservation. Accredited by the American Alliance of Museums, the Gardens' living collections encompass specimens from the tropics to the tundra, showcasing a plant palette chosen to thrive in Colorado's semiarid climate. The Gardens offer world-class art exhibitions, education programs, and important plant conservation and research initiatives. For more information, visit botanicgardens.org.
 
Praise For Steppes: The Plants and Ecology of the World's Semi-arid Regions…
"Mention 'steppes,' and many envision exotic, even extinct locales, such as stops along Marco Polo's Silk Road. This work, produced under the aegis of the Denver Botanic Gardens, which has a dedicated 'steppe collection,' dispels such misconceptions by providing a comprehensive examination of the rich biodiversity to be found in the significant, still-existing semi-arid grasslands regions throughout the world. Color photos inform the book's series of exploratory essays organized by geographical region, including Central Asia, South America, and American prairies. VERDICT A celebratory compendium of the Earth's amazing grassy plains." —Library Journal

"A fascinating blend of geography, geology, human history and global politics—with a generous helping of botany thrown in." —The Pueblo Chieftain

"This book is to be hugely welcomed…This is an attractive and thought-provoking volume of great interest to the garden, horticulturist and ecologist alike." —The Garden

"Despite their horticultural importance, little has been written about them. This book…highlights the plants in each area and gives climatic and geological descriptions." —Alpine Garden Society

"This ambitious book surveys the steppe habitats of the world, with a primary emphasis on botany and horticulture…the whole is harmonized by the consistent erudition of all the authors…It is rich in detail, and can be consulted by serious horticulturalists, both professional and amateur…botanists, geographers, and even policy-makers, and it is a must-read before visiting any of the steppe regions." —North American Rock Garden Society

"Steppes: The Plants and Ecology of the World's Semi-arid Regions is a deep and far-reaching survey of all four steppe areas. Richly illustrated and packed with information about plants, history, geography, and geology, it brings together the talents of five outstanding horticulturists…Day by day, our world is becoming more steppe-like…If we know what's good for us, we'll start learning the lessons of these complex, fascinating regions. And Steppes is a great place to begin." —I Can Garden

"Much of the human story has been written in exactly these sort of high, dry grasslands and shrub lands, broadly known as the world's steppe climates. It's no accident that so many of our best garden plants come to us from these far-off lands. Journey from the familiar canyons and prairies of the American West to the vast plains of Mongolia, to the rugged grasslands and Karoo of South Africa and to the windswept peaks and plateaus of Patagonia." —Slow Food Denver