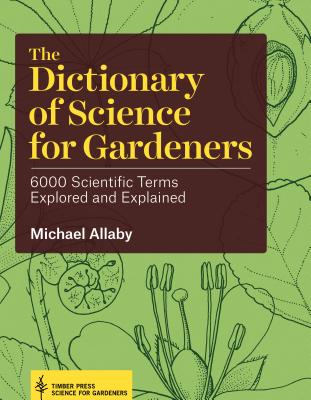 The Dictionary of Science for Gardeners (Hardcover)
6000 Scientific Terms Explored and Explained
Timber Press, 9781604694833, 556pp.
Publication Date: August 26, 2015
* Individual store prices may vary.
Description
A Library Journal Best Reference Pick of 2015!

Every gardener is a scientist. Pollination, native plants, ecology, climatology—these are just a few of the scientific concepts that play a key role in a successful garden. While the ideas are intuitive to many gardeners, they are often discussed in unfamiliar scientific terms. The Dictionary of Science for Gardeners is the first of its kind to provide practical scientific descriptions for gardening terms. Highlighting 16 branches of science that are of particular interest to gardeners, with entries from abaptation to zoochory, Michael Allaby explores more than 6,000 terms in one easy-to-use reference.
About the Author
Michael Allaby is an enthusiastic, prolific, award-winning science writer who has written, edited, and co-authored many books on environmental science. His DK Guide to Weather won the Junior Prize of the Aventis Prizes for Science Books, and his Plants and Plant Life won Booklist Editor's Choice. See michaelallaby.com for more information.
Praise For The Dictionary of Science for Gardeners: 6000 Scientific Terms Explored and Explained…
"The Dictionary of Science for Gardeners should be on every potting shed shelf. . . . Michael Allaby's dictionary is its own sort of travelogue through the horticultural world." —The New York Times

"A useful guide for gaining a better understanding of the complex world of garden science." —Gardens Illustrated

"Written for the layperson with an interest in understanding the scientific terminology used in books and articles related to modern gardening. . . . Notable for broad coverage, this volume is recommended for public and special libraries with horticulture or gardening collections." —Booklist

"This book will be useful to nursery professionals and botany and earth science students. Serious gardeners looking for definitions to words found in technical natural science and gardening texts as well as those seeking additional resources will also be pleased." —Library Journal

"At more than 500 pages containing the exploration and explanation of some six thousand scientific terms, covering sixteen branches of science that are of particular interest to gardeners, the non-techy among us should not feel cheated by Mr Allaby's exhaustive pronouncements." —Hortus

"With its breadth of information, The Dictionary of Science for Gardeners is a valuable resource for gardeners, horticulturists, new botany students, and dictionary lovers everywhere." —NYBG's Plant Talk

"Today's well-educated gardener, whether amateur or professional, will find this somewhat niche dictionary useful, especially when reading scientific articles related to gardens and horticulture.  It is a unique, well-curated assortment of entries on topics as diverse as climate change, ecology, and native plants." —Choice

"If you're planning on entering a gardening spelling bee, or if you just need help navigating the complex world of gardening science, then The Dictionary of Science for Gardeners is for you." —Michigan Gardener