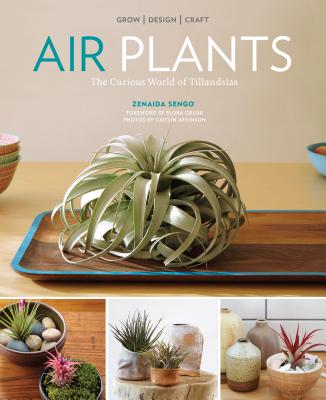 Air Plants (Paperback)
The Curious World of Tillandsias
Timber Press, 9781604694895, 224pp.
Publication Date: September 30, 2014
* Individual store prices may vary.
Description
"In this beautiful book, artist Zenaida Sengo has provided inspiration for designing and living with tillandsias." —Flora Grubb

Air Plants, by Zenaida Sengo shows how simple and rewarding it is to grow, craft, and design with these modern beauties. Decorating with air plants is made easy with stunning photographs that showcase ideas for using them mounted on walls, suspended from the ceiling, as living bows and jewelry, as screens, and in unique containers, like leather pouches, dishes, and baskets. Six step-by-step projects include a wood mount, a wall hook, lasso-and-hook wiring, a ceramic-frame garden, and three unique terrariums.
About the Author
Zenaida Sengo is an artist and horticulturist in San Francisco. When she was an art student, her love of the natural world inspired her painting and drawing, and now in her tiny San Francisco apartment she suspends orchids and bromeliads from the ceiling and nestles them amidst other epiphytic plants, rocks, and minerals. She works with tillandsias at the acclaimed Flora Grubb Gardens, creating designs that integrate plants in and around the home. At other times Zenaida can be found farther afield, rock climbing and alpine camping in Northern California.
 
Caitlin Atkinson is an accomplished freelance photographer and stylist, capturing and creating gardens, interiors, and still life. Her photography has appeared in Martha Stewart Living, Elle Decor, Dwell, Garden Design Magazine, and Sunset magazine. She splits her time between the Bay Area and the Sierra Nevada Foothills of California. See more of her work at on Instagram @mscaitlinatkinson and at caitlinatkinson.net. 
Praise For Air Plants: The Curious World of Tillandsias…
"In every gardener's life, the road divides, providing a chance to let go of old snobberies and discover new delights. My heart leapt when I saw Air Plants. . . . I gazed with no small lust in the heart at air plants perching in napkin rings, teacups or bull's horns, as styled by the book's artistic author." —The New York Times Book Review

"Sengo offers fresh possibilities to people who love plants in their home but have little time, limited space, and a general disinclination toward plant care. . . . Sengo's informative book offers creative ways to enjoy these quirky plants." —Publishers Weekly

"A timely book for the genus tillandsia, which seems to be popping up everywhere as of late, as the 'in' group of plants." —Country Gardens
 
"This book, written by Flora Grubb Gardens' own Zenaida Sengo and photographed by the insanely talented Caitlin Atkinson, takes a deep dive into different varieties, care, and projects." —Sunset

"A great introduction. . . . Immerse yourself in the wonders of these deceptively simple showstoppers." —Chicago Tribune

"Sengo dishes on the plant. . . . sharing ideas for decorating with the low-maintenance, sculptural wonders. Sengo and photographer Caitlin Atkinson use their homes and the homes of friends to demonstrate how to turn the plants into the perfect accessory for any bright space." —San Francisco Chronicle
 
"Zenaida Sengo may inspire you to add a little exotic flavor to your environs with these unusual plants." —American Gardener
 
"This book covers all the basics of growing and crafting with the fuzzy, spiky, sculptural plants that are—bonus!—low-maintenance and soil free." —Denver Life Magazine  

"Step-by-step instructions along with color photographs will help you design a hard-to-kill arrangement, for yourself or gift giving." —The Oregonian

"A truly handy and fun read, with clear, pretty photos and step-by-step how-to projects, this book is not only a guide on choosing and caring for air plants, but also gives us amazingly creative ideas on air plant crafting and design." —BoingBoing

"A plant lover's dream." —The Nest