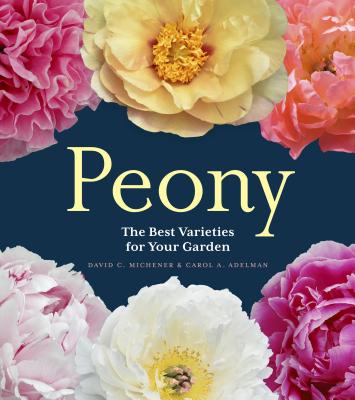 Peony (Hardcover)
The Best Varieties for Your Garden
Timber Press, 9781604695205, 256pp.
Publication Date: December 27, 2017
* Individual store prices may vary.
Description
"A luscious and colorful immersion into the world of the peony." —Petal Talk

The bold blooms, pretty colors, and heady fragrances of peonies make them one of the most popular flowers, both in gardens and floral arrangements. Peony—by leading experts David Michener and Carol Adelman—makes it easier than ever to grow them home. This lush book shares the history of the plant, explores the different types available, and includes complete growing information for 194 of the best varieties. Helpful lists detail the best peonies for specific needs.
About the Author
David C. Michener is associate curator at the University of Michigan Matthaei Botanical Gardens and Nichols Arboretum in Ann Arbor, where he is overseeing the rejuvenation of the Peony Garden, the largest public collection of historic herbaceous peonies in North America. 
Carol A. Adelman is the founder of Peony Paradise–Adelman Peony Gardens near Salem, Oregon. She and her husband grow 484 varieties of peonies. Adelman is on the board of directors for the American Peony Society, is the president of the Pacific North West Peony Society, and is the charter organizer of the Salem Hardy Plant Society.
Praise For Peony: The Best Varieties for Your Garden…
"Gardeners who already know and love peonies will find use in this book, as will those just getting started." —Booklist

"Whether you are already a peony lover or curious to learn more about this garden favorite, Peony is chock full of useful information and recommended varieties." —NYBG's Plant Talk​

"A great introduction for gardeners interested in growing peonies and a guide for experienced growers looking for newer varieties to add to their collections." —Library Journal

"If you grow peonies, this book is a wonderful resource. If you don't grow peonies, reading this book will have you considering where you might plant these showy beautifies." —The Gardener for Canadian Climates

"The popular peony is championed in this new book, aptly named alter the beautiful, colour-rich bloom. Authors David C. Michener and Carol A. Adelman highlight the best varieties for your garden accompanied by stunning photography throughout." —Period Living

"Peony makes it easier than ever to grow at home." —The Michigan Gardener

"Authors David Michener and Carol Adelman combine their expertise to create a luscious and colorful immersion into the world of the peony." —Petal Talk

"Readers are sure to become peony enthusiasts." —Green Bay Press Gazette

"It would be worth borrowing this book just for the photography alone." —The Sudbury Star