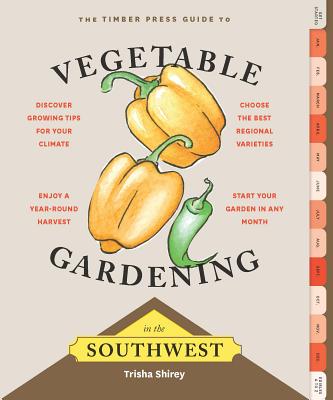 Timber Press Guide to Vegetable Gardening in the Southwest (Regional Vegetable Gardening Series) (Paperback)
Timber Press, 9781604695359, 240pp.
Publication Date: January 7, 2015
* Individual store prices may vary.
Description
There is nothing more regionally specific than vegetable gardening—what to plant, when to plant it, and when to harvest are decisions based on climate, weather, and first frost. The Timber Press Guide to Vegetable Gardening in the Southwest, by regional expert Trisha Shirey, focuses on the unique eccentricities of the Southwest gardening calendar, which include extreme temperatures and low rainfall. The month-by-month format makes it perfect for beginners and accessible to everyone— gardeners can start gardening the month they pick it up. Perfect for home gardeners in Arizona, Nevada, New Mexico, Oklahoma, Texas, Utah, eastern California, and southern Colorado.
About the Author
Trisha Shirey is the award-winning head gardener at the Lake Austin Spa Resort where she teaches guests about vegetable gardening. She is also a regular guest host of the popular Gardening Naturally radio show on KLBJ-AM. She is a contributing author to Great Garden Formulas and an active speaker to garden clubs all over the state of Texas. She lives in Austin, Texas.