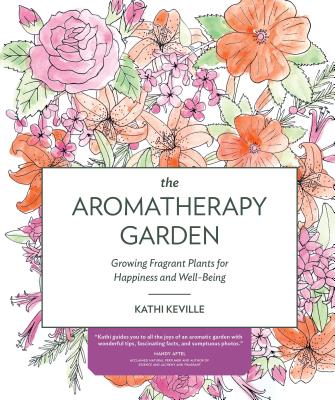 The Aromatherapy Garden (Paperback)
Growing Fragrant Plants for Happiness and Well-Being
Timber Press, 9781604695496, 276pp.
Publication Date: April 27, 2016
* Individual store prices may vary.
Description
"Kathi guides you to all the joys of an aromatic garden with wonderful tips, fascinating facts, and sumptuous photos." —Mandy Aftel, acclaimed natural perfumer and author of Essence and Alchemy and Fragrant

The Aromatherapy Garden explains how fragrant plants can be as therapeutic as they are intoxicating, and how easy it is to add this captivating element to gardens large and small. It reveals the scents, secrets, and science behind fragrant plants, and how to optimize the full benefits of fragrance. Hone your powers of concentration with lemon verbena. Beat the blues with wintersweet. And use rose geranium to relieve anxiety and stress. Revealed here are the scents, secrets, and science behind plant aromatherapy, and how to optimize its full benefits. Detailed plant profiles will help you create a beautiful source of restorative aromas, oils, sachets, teas, and more. The nose knows—and with Keville's expertise, now you too can create your own sanctuary of health and happiness
About the Author
Kathi Keville is an internationally known aromatherapist and herbalist. As an author and speaker, she conducts seminars in North America and Europe, and operates Green Medicine Herb School in Nevada City, California, where she grows nearly 500 species of medicinal herbs and fragrant plants. Keville is the director of the American Herb Association. She received honors from the National Association for Holistic Aromatherapy, is a founding member of the American Herbalist Guild, and a member of United Plant Savers. 
Praise For The Aromatherapy Garden: Growing Fragrant Plants for Happiness and Well-Being…
"Another intelligent and stunningly beautiful book to delight and tickle our senses. . . . Anyone interested in gardening, medicinal herbs, aromatherapy, or who just loves beautiful books will treasure this truly original book by one of the great herbalists of our times." —Rosemary Gladstar

"Kathi Keville's beautifully illustrated aromatic garden and infectious love of plants and distillation are redolent in these pages, while her enviable depth of knowledge about all things, such as how plants communicate, makes her book an intellectual delight to savor. Every page is a journey into the nature of nature." —Robert Tisserand, author and essential oil researcher

"Beautifully done and immensely helpful." —Jeanne Rose, author and executive director of the Aromatic Plant Project
 
"Whether you are a beginner to gardening and/or aromatherapy, or a more seasoned expert, Kathi's newest book is sure to delight all of your senses!" —National Association for Holistic Aromatherapy

"A breath of fresh aromatic air, artfully and tastily presented." —Jim Duke, author of The Green Pharmacy

"Keville weaves references to studies about healing and invigorating smells into short cultural histories of facts and stats. . . . Most admirably, Keville rises to the challenge of describing each scent ("Basil's spicy clove scent, with its hint of mind and pepper, makes it delightfully sweet, hot, and sharp all at the same time"). With such rich descriptions, readers will long for the actual aroma." —Publishers Weekly

"Kathi Keville fills the reader's medicine chest with information on how to grow your well-being with plants." —Garden Design Online

"The book's 200 stunning color photos show off featured plants accompanied by poetic descriptions of their signature scents, histories and gardening tips." —The Union

"If you are a gardener who enjoys fragrant plants, then Kathi Keville's new book The Aromatherapy Garden: Growing Fragrant Plants for Happiness and Well-Being, should be on your reading list. . . . this book is full of lovely, colorful photographs and great information on aromatic plants and creating you own fragrant garden." —Vegetable Gardener