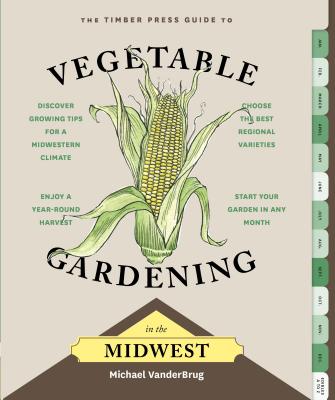 The Timber Press Guide to Vegetable Gardening in the Midwest (Regional Vegetable Gardening Series) (Paperback)
Timber Press, 9781604695526, 176pp.
Publication Date: December 30, 2015
* Individual store prices may vary.
Description
How to grow your own food in the Heartland!

There is nothing more regionally specific than vegetable gardening—what to plant, when to plant it, and when to harvest are decisions based on climate, weather, and first frost. The Timber Press Guide to Vegetable Gardening in the Midwest, by regional expert Michael VanderBrug, focuses on the unique eccentricities of the Midwest gardening calendar. The month-by-month format makes it perfect for beginners and accessible to everyone—gardeners can start gardening the month they pick it up. Perfect for home gardeners in Illinois, Indiana, Iowa, Kansas, Michigan, Minnesota, Missouri, Nebraska, North Dakota, Ohio, South Dakota, and Wisconsin. 
About the Author
Michael VanderBrug began vegetable farming in 2001 on 50 acres of his grandfather's farm in Jenison, Michigan. The farm started with 30 members in a Community Supported Agriculture (CSA) program, and quickly expanded into other markets, including local grocery stores. Michael has also worked with several restaurants to design and install chef's gardens, and he consulted with Blandford Nature Center to help them start their own farm. He is also the owner of the popular farm-to-table restaurant Trillium Haven Restaurant in Grand Rapids. 
Praise For The Timber Press Guide to Vegetable Gardening in the Midwest (Regional Vegetable Gardening Series)…
"The handbook's month-by-month structure is easy to follow, helping the reader plan, prepare, plant, and harvest. . . . This guide has solid information packed with common sense." —Publishers Weekly

"VanderBrug welcomes his reader in joining the great agricultural history of the Midwest, and emphasizes the importance of knowing one's garden and its various microclimates. Even those not planning a garden in the Midwest will find that following his calendar and narrative is surprisingly soothing, as he navigates the seasons and their chores." —NYBG Plant Talk

"While Timber Press has tackled other regions with its growing guides, this edition is its first time walking gardeners through working with the climate extremes of the Midwest. The guide includes month-by-month actions, as well as care and keeping profiles for fruits, vegetables and herbs that grow best here and details on garden basics, including planning." —Agri News