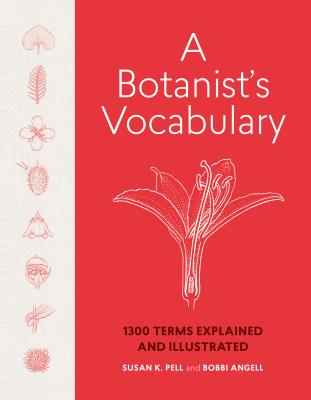 A Botanist's Vocabulary
1300 Terms Explained and Illustrated
Hardcover

* Individual store prices may vary.
Description
For anyone looking for a deeper appreciation of the wonderful world of plants!

Gardeners are inherently curious. They make note of a plant label in a botanical garden and then go home to learn more. They pick up fallen blossoms to examine them closer. They spend hours reading plant catalogs. But they are often unable to accurately name or describe their discoveries. A Botanist's Vocabulary gives gardeners and naturalists a better understanding of what they see and a way to categorize and organize the natural world in which they are so intimately involved. Through concise definitions and detailed black and white illustrations, it defines 1300 words commonly used by botanists, naturalists, and gardeners to describe plants. 
Praise For A Botanist's Vocabulary: 1300 Terms Explained and Illustrated…
"The library staff at The New York Botanical Garden has been eagerly awaiting A Botanist's Vocabulary arrival on the market and in our collection. . . . For lovers of plants and for lovers of language, A Botanist's Vocabulary is an essential addition to the home and botanical library alike." —NYBG's Plant Talk

"Students, gardeners, and even professional botanists will find much to like in this expanded glossary, with its concise definitions and elegant drawings. . . . Botany reference collections will find this a welcome addition for users of all levels." —Booklist

"This handy and elegant illustrated glossary features over 1,300 terms used by botanists and home gardeners. Beautiful and finely detailed black-and-white drawings illuminate the minute differences among everything from aggregate fruits to zygomorphic flowers. A splendid ready-reference title that will be eagerly embraced by the green-thumbed." —Library Journal best reference pick

"If you don't know your palmate from your pandurate leaf, you may find this well laid-out guide to botanical terms a wonderful resource. . . . it's possible to enrich your whole gardening experience, whether you're a botany student, a gardener or simply someone who wants to learn more about plants." —The Guardian

"Not only vital to understanding landscape architecture as it is transmitted in the written word, but also for communicating its expressive depth. . . . Terms here are explicated in brief and illustrated by elegant, clear line drawings." —Landscape Architecture Magazine

"Bobbi Angell's incisive illustrations not only show the botanical structures clearly, but the plant subjects are carefully chosen to be recognizable to many." —Gardens Illustrated

"There are very few books that I believe are truly essential to good gardening.  I suspect, though, that this may turn out to be one of the select few." —Garden Rant

"A Botanist's Vocabulary is a straightforward, no-frills guide to botanical terms. After a brief introduction, the book explains 1,300 botanical terms from the prosaic (annual) to the esoteric—any idea what zoophilous means? . . . You don't need a background in horticulture to use this book, but if you're trying to get one, this book would be a valuable aid." —Northern Gardener

"Sayings like 'a picture is worth a thousand words' may be considered cliché, but typically they also hit the nail on the head. That's never been more true than for this book. While understanding a term like 'lanceolate' purely based on words ('lance- or sword-shaped with the widest point toward the base') may require you to read its definition multiple times, seeing an illustration once is usually enough to get it. . . . Having A Botanist's Vocabulary on your book shelf is a bit like having a box of assorted Band-Aids in your bathroom. It gives you peace of mind knowing you're covered if and when you need it." —Succulents and More

"If the meanings of words like rhizomes, xeric, or rosettes do not immediately come to mind, you might be interested in another terrific book of the season, A Botanist's Vocabulary. These words are among 1,700 explanations, many of which are accompanied by drawings showing exactly what these terms and phrases represent." —Better Homes and Country Gardens

"Accessible to beginners and still useful to professionals and more advanced students." —
Timber Press, 9781604695632, 228pp.
Publication Date: May 25, 2016
About the Author
Susan K. Pell is the science and public programs manager at the United States Botanic Garden, where she gets to show people the awesomeness of plants every day. She was formerly director of science at Brooklyn Botanic Garden, where she studied the evolutionary relationships of the cashew family. She holds a PhD in plant biology and teaches courses in genetics, angiosperm morphology, and systematics. Pell lives in Washington, D.C., with her wife and daughter.

Bobbi Angell creates richly detailed pen and ink drawings for botanists at the New York Botanical Garden and other institutions. Ror many years, she illustrated The New York Times "Garden Q&A" column. A gardener and printmaker as well as an illustrator, she lives in southern Vermont.