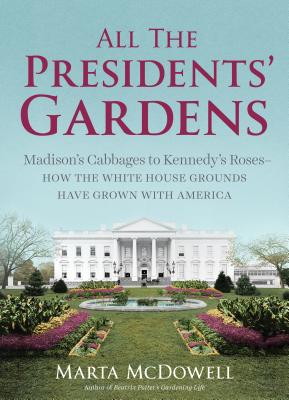 All the Presidents' Gardens (Hardcover)
Madison's Cabbages to Kennedy's Roses—How the White House Grounds Have Grown with America
Timber Press, 9781604695892, 336pp.
Publication Date: April 27, 2016
* Individual store prices may vary.
Description
A New York Times Bestseller and AHS Book Award winner
The 18-acres surrounding the White House have been an unwitting witness to history—kings and queens have dined there, bills and treaties have been signed, and presidents have landed and retreated. Throughout it all, the grounds have remained not only beautiful, but also a powerful reflection of American trends. In All the Presidents' Gardens bestselling author Marta McDowell tells the untold history of the White House Grounds with historical and contemporary photographs, vintage seeds catalogs, and rare glimpses into Presidential pastimes. History buffs will revel in the fascinating tidbits about Lincoln's goats, Ike's putting green, Jackie's iconic roses, and Amy Carter's tree house. Gardeners will enjoy the information on the plants whose favor has come and gone over the years and the gardeners who have been responsible for it all.
About the Author
Marta McDowell lives, gardens, and writes in Chatham, New Jersey. She consults for public gardens and private clients, writes and lectures on gardening topics, and teaches landscape history and horticulture at the New York Botanical Garden, where she studied landscape design. Her particular interest is in authors and their gardens, the connection between the pen and the trowel.
Praise For All the Presidents' Gardens: Madison's Cabbages to Kennedy's Roses—How the White House Grounds Have Grown with America…
"McDowell's entertaining look at the gardens at America's premier residence illustrates the nation's horticultural aspirations, trends, and history. . . . A thorough researcher, McDowell unearths little-known stories and vivid details to illuminate important personalities and provide insight into our gardening past. Often injecting wit, she explains how the White House has dealt with typical garden pests (raccoons who fish in water gardens) as well as atypical problems (e.g., helicopter winds or hosting 1,000 guests at a time). Resplendent with historical images, the work also includes plant lists and short bios of key White House gardeners. . . . [An] informative gem of a book." —Library Journal

"History is often best learned from stories, and there are plenty of anecdotes here. . . . The writing is conversational and inviting, as one might find when visiting a garden with someone who knows it well. Photographs, line drawings, paintings, maps, and other documents add to the interesting stories. . . . a delightful and elucidating work." —Booklist starred review​

"A delightful dig through White House gardens. [McDowell] plots their history from the Washington administration to the Obamas. . . . Her descriptions of the grounds and evolving garden tastes are complemented with a colorful array of illustrations. McDowell fills the book with juicy tidbits: the last cow to graze on the White House lawn (1912) was named Pauline Wayne; Herbert Hoover wanted 'the help' to seem invisible, so they hid behind hedges when he passed by." —Publishers Weekly

"Given its timeless grace, the visitor today might think that the Rose Garden was always a part of the grounds of America's first garden, but as Marta McDowell's absorbing book drives home, the 18 acres around the executive mansion have been constantly tweaked, changed and replanted over the past two centuries." —The Washington Post 

"Long may there be erudite and entertaining books like All the Presidents' Gardens to enlighten and educate about American garden history." —The American Gardener

"Marta's 'voice' creates a sense of fascination within the reader. Her wit and insight shines through as she describes the White House Gardens, sometimes utilitarian and spare, and other times lush and extravagant. . . . The greatest achievement of Marta's book, though, isn't the precise documentation of the history of The First Garden, if you will, but in the way she weaves the tales of American ingenuity and preservation into it." —NYBG's Plant Talk

"A well-presented history of the White House garden, which doubles as a companion to early American garden history." —Gardens Illustrated

"This book's deeply researched material is impressive. . . . The book is a kind of TMZ of presidential horticultural history that will delight gardeners and history buffs alike." —Country Gardens 

"A really fun book. . . . It's also very well-researched by author Marta McDowell and exhaustively covers every administration from George Washington to Barack Obama, complete with lists of head gardeners and plants." —Garden Rant

"A refreshing change from the onslaught of political memoirs. .  . . Through the lens of the White House gardens, one can get a sense of America's rich horticultural and garden history." —Hortus

"Post-election rehabilitation for gardeners" —The Triangle Gardener

"Rife with well-researched anecdotes that illuminate the past as well as contemporary and historical photographs and illustrations, the book presents a fresh "nonpartisan" perspective on American life. . . . The book will be equally appealing to the horticulturalist and the history enthusiast." —Coastal Home

"it's full of fascinating archival photos and illustrations, and the stories and each garden offer glimpses of life in America (and the White House) through history." —Houston Chronicle

"This charming, copiously illustrated book is a treasure trove for historians and horticulturalists alike." —Elle Décor

"A fascinating insight for gardeners and historians of one of the world's most famous homes." —RHS Garden Magazine

"From the moment a spade first broke ground for construction of the White House, the 18 acres of presidential gardens have served as a backdrop to history: a social commentary, fashion statement and a lesson in agriculture for the nation. All the Presidents' Gardens by historian Marta McDowell is U.S. history in full bloom." —California Bountiful