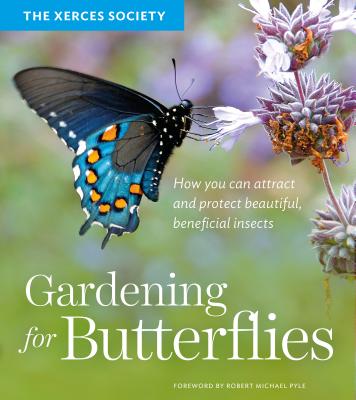 Gardening for Butterflies
How You Can Attract and Protect Beautiful, Beneficial Insects
Paperback

* Individual store prices may vary.
Description
"No matter the size or shape of your growing area, this will guide you through creating a butterfly-friendly space." —Mother Earth News

Welcome the world's most exquisite visitors to your garden! Gardening for Butterflies, by the experts at the Xerces Society, introduces you to a variety of butterflies who need our help, and shows you how to design a habitat where they will thrive. This optimistic call to arms is packed with everything you need to create a beautiful, pollinator-friendly garden. You will learn why butterflies matter, why they are in danger, and what simple steps we can take to make a difference. You'll also learn how to choose the right plants and how to create a garden that flutters and flourishes with life.

 
Praise For Gardening for Butterflies: How You Can Attract and Protect Beautiful, Beneficial Insects…
"Celebrate Earth Day by taking cues from Gardening for Butterflies, which suggests the best blooms for attracting spring's prettiest winged creatures." —Martha Stewart Living

"There are chapters on designing a butterfly garden, creating shelter, butterfly plants, installation and maintenance, observing and conserving, even tagging butterflies to help track migration. But the best part of this book might be the photographs of these incredible creatures." —Country Gardens 

"Gardeners interested particularly in the ecological issues of pollinator conservation will want this book, which provides them with the rationale and tools for supporting and promoting pollinators." —Library Journal

"An introduction to some of the most endangered butterflies and a guide to creating a garden that can protect and nurture them." —Gardens Illustrated

"Outstanding. . . . Perhaps the most appealing aspect of butterfly gardening is that you can really make a difference for butterflies and other pollinators in your backyard. This Xerces Society book is a great guide to get you started or to enhance your existing efforts." —Wildlife Activist

"This book, from a leading pollinator conservation organization, tells why we should care about helping butterflies and then names the plants and techniques that are most helpful to bringing them into your yard." —Patriot News

"Even beyond the plant recommendations, the ideas on providing places for butterflies to pupate, take shelter and overwinter are helpful in re-imagining my garden as a place where butterflies might like to live, rather than just visit for a snack." —North Coast Journal

"Provides home gardeners with everything they need to create a beautiful, beneficial, butterfly-filled garden. The book introduces readers to a variety of butterflies that need help and provides suggestions for native plants to attract them, habitat designs to help them thrive, and garden practices to accommodate all their stages of life, no matter the size of your garden space." —Houston Lifestyles and Homes

"Whether you have a garden or just a love of butterflies, Gardening for Butterflies will give you the tools you need to become a butterfly steward. Pick up a copy and buy one for a friend, too." —EcoBeneficial

"Save the butterflies, save the world is the motto of this book dedicated to an insect so flutteringly lovely that just a glimpse of one brings joy to the heart of a gardener. But how often do we think about planting for caterpillars as well as nectar? I've already copied the list of host and nectar plants for our climate to keep in the front of my gardening notebook." —Pacific NW Magazine

"Growing a butterfly garden isn't a novel idea—but Gardening for Butterflies, a new book by the Xerces Society, elevates the concept from whimsical to essential. . . . No matter the size or shape of your growing area, this new title will guide you through creating a butterfly-friendly space." —Mother Earth News

"You—a large, warm-blooded creature incapable of flight—actually have something very important in common with the butterfly: You both adore flowers. In clear prose and lovely photographs, a new book—Gardening for Butterflies: How You Can Attract and Protect Beautiful, Beneficial Insects—tells how to make the most of that shared obsession." —Columbus Dispatch
Timber Press, 9781604695984, 288pp.
Publication Date: March 23, 2016
About the Author
The Xerces Society is a nonprofit organization based in Portland, Oregon, that protects wildlife through the conservation of invertebrates and their habitat. Established in 1971, the Society is at the forefront of invertebrate protection worldwide, harnessing the knowledge of scientists and the enthusiasm of citizens to implement conservation programs. They are the authors of 100 Plants to Feed the Bees, Farming with Native Beneficial Insects, and Attracting Native Pollinators.