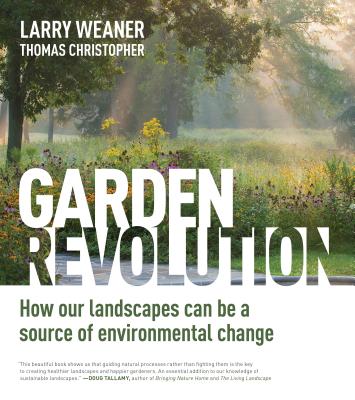 Garden Revolution
How Our Landscapes Can Be a Source of Environmental Change
Hardcover

* Individual store prices may vary.
Description
"Shows us that guiding natural processes rather than fighting them is the key to creating healthier landscapes and happier gardeners." —Doug Tallamy, author of Bringing Nature Home

Larry Weaner is an icon in the world of ecological landscape design, and now his revolutionary approach is available to home gardeners. Garden Revolution shows how an ecological approach to planting can lead to beautiful gardens that buck much of conventional gardening's counter-productive, time-consuming practices. Instead of picking the wrong plant and then weeding, irrigating, and fertilizing, Weaner advocates for choosing plants that are adapted to the soil and climate of a specific site and letting them naturally evolve over time. This lushly-photographed reference is for anyone looking for a better, smarter way to garden.
Praise For Garden Revolution: How Our Landscapes Can Be a Source of Environmental Change…
"This beautiful book shows us that guiding natural processes rather than fighting them is the key to creating healthier landscapes and happier gardeners. An essential addition to our knowledge of sustainable landscapes." —Doug Tallamy, author of Bringing Nature Home

"An essential reference for conservation-minded home gardeners and stewards of larger landscapes." —Rick Darke, author of The Living Landscape and The American Woodland Garden

"There's inspiration here, from the honesty with which the authors address climate change to the experiential wisdom they bring to every aspect of the complex process of creating a landscape." —Booklist

"In this text-heavy volume, a landscape designer and a horticulturist teach us that gardening can be a partnership with nature when gardeners shed conventional practices, exploit plants' life cycles, and embrace unpredictable plant communities." —Library Journal

"What is marvellous about reading this book is the powerful sense of those lifetimes of knowledge and skill being shared, and so concisely—there is hardly a spare sentence here. . . . Illustrations are plentiful, clear and enticing. . . . I wholeheartedly recommend this book to anyone who wants to work with wild or ecological planting styles; we can all learn a lot from it." —Gardens Illustrated 

"A guide to every aspect of a new kind of garden based on age-old laws—nature's law." —Country Gardens

"There's a way to design and plant that's beneficial to the environment, that looks beautiful, and that saves you—the homeowner— from a lot of toil and trouble. . . . the principles he outlines can be adapted for almost any garden, so it's a book that you'll want on your bookshelf. . . . This is a book that's long, long overdue." —Garden Design Online

"This book shows how [Larry Weaner] evaluates the natural habitat, chooses plants, and watches them grow and reseed, then edits if necessary. . . . This is a book that will guide a designer through a planning process, including a demonstration of the use of themed maps to show microclimates and other features of a site." —San Francisco Chronicle

"Garden Revolution reinforces what we've been told again and again—and thankfully are beginning to heed—that as garden makers, we need to pay attention to the local ecology. . . . Throughout the book, practical content is presented alongside anecdotal planting examples. . . their observations and analysis open our eyes and invite us to adopt an approach that can be deeply meaningful and filled with 'surprises and revelatory events.'" —Pacific Horticulture Magazine

"Garden Revolution gives land managers the toolkit to work with land on large and small scales in order to create ecologically sensitive landscapes. For anyone who is a steward of land or interested in the topic, this is a book to find and read sooner rather than later." —NYBG's Plant Talk

"A thoughtful meditation on ecology, garden design, and theory of native landscapes." —Garden Collage
Timber Press, 9781604696165, 328pp.
Publication Date: May 18, 2016
About the Author
Larry Weaner is a leading figure in North American landscape design and founder of the educational program series New Directions in the American Landscape. His firm, Larry Weaner Landscape Associates, is known for combining ecological restoration with traditions of fine garden design and has recieved the top three design awards from the Association of Professional Landscape Designers and the Regional Impact Award by the New England Wild Flower Society. Weaner was awarded the Lady Bird Johnson Award by the Native Plant Center at Westchester Community College.
Thomas Christopher is the author of more than a dozen gardening books. He has written for The New York Times, The Journal of the Royal Horticultural Society, and Horticulture Magazine, as well as serving as a columnist for House & Garden and a contributing editor at Martha Stewart Living.