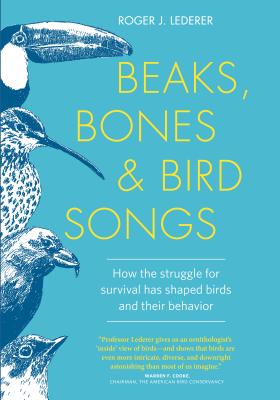 Beaks, Bones and Bird Songs
How the Struggle for Survival Has Shaped Birds and Their Behavior
Hardcover

* Individual store prices may vary.
Other Editions of This Title:
Digital Audiobook (5/29/2017)
Description
"Reveals the strange and wondrous adaptations birds rely on to get by." —National Audubon Society

When we see a bird flying from branch to branch happily chirping, it is easy to imagine they lead a simple life of freedom, flight, and feathers. What we don't see is the arduous, life-threatening challenges they face at every moment. Beaks, Bones, and Bird Songs guides the reader through the myriad, and often almost miraculous, things that birds do every day to merely stay alive. Like the goldfinch, which manages extreme weather changes by doubling the density of its plumage in winter. Or urban birds, which navigate traffic through a keen understanding of posted speed limits. In engaging and accessible prose, Roger Lederer shares how and why birds use their sensory abilities to see ultraviolet, find food without seeing it, fly thousands of miles without stopping, change their songs in noisy cities, navigate by smell, and much more.
Praise For Beaks, Bones and Bird Songs: How the Struggle for Survival Has Shaped Birds and Their Behavior…
"This is a wonderful book about birds for birders who would like to understand them better." —Dennis Paulson, author of Shorebirds of North America
 
"A joyride through the secret lives of birds. Drawing on centuries of bird research and observation, Roger Lederer brings readers an engaging exploration of bird survival strategies and their evolutionary origins." —James R. Karr, professor emeritus, University of Washington

"It might not seem so, but "it's tough to be a bird," Roger J. Lederer writes. . . . Lederer convincingly makes the case in his accessible and detail-rich survey of bird behavior. His examples are vivid and plentiful. . . . Lederer, an emeritus professor of biology, has an easy way with zoological concepts and the patient air of a born teacher." —Washington Post

"An exceptional overview of the life, adaptations, and impressive skill sets of wild birds. . . . Highly recommended for all interested in natural history and the impact of humans on the natural world." —Library Journal

Beaks, Bones, and Bird Songs an "admirable undertaking. . . rich source of information." —Choice Magazine

"A trove of information for true bird nerds." —Bird Watcher's Digest 

"Birds have conquered every environment on Earth—including our hearts. This book reminds us that our fates are intertwined with theirs." —Gary Langham, chief scientist of the National Audubon Society

"Professor Lederer gives us an ornithologist's 'inside' view of birds—and shows that birds are even more intricate, diverse, and downright astonishing than most of us imagine." —Warren F. Cooke, chairman of The American Bird Conservancy
 
"Gracefully mingles [Lederer's] own experiences around the world with what is known about birds (and what still remains a mystery)." —Chico Enterprise-Record
Timber Press, 9781604696486, 282pp.
Publication Date: June 22, 2016
About the Author
Dr. Roger Lederer is a professor of biological sciences at California State University, Chico. He has published papers and books on ecology, science education, and ornithology. Dr. Lederer has served as a consultant to governments, schools, and organizations like BBC, National Geographic, National Public Radio, National Canadian Television, the Guinness Book of World Records, and many others through his popular website, ornithology.com.
or
Not Currently Available for Direct Purchase