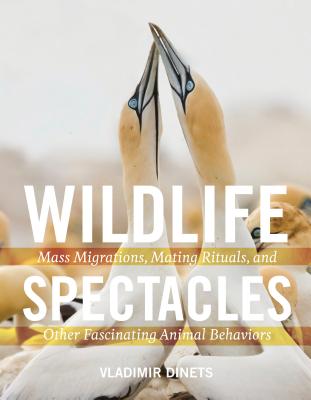 Wildlife Spectacles (Hardcover)
Mass Migrations, Mating Rituals, and Other Fascinating Animal Behaviors
Timber Press, 9781604696714, 320pp.
Publication Date: October 19, 2016
* Individual store prices may vary.
Description
Equal parts nature guide, adventure story, and coffee table book!
 
People are captivated by wild animals—by their strength and their size and by the things they do to stay alive. In Wildlife Spectacles zoologist Vladimir Dinets dives deep into this wonder, allowing curious readers to discover just how spectacular wild animals can be. In the rich, fully illustrated pages you'll discover the migration of gray whales along the Pacific coast, the dancing alligators of the Everglades, the synchronized blinking of fireflies near Tennessee, the swarms of feeding bats over the Mississippi River, the blue-glowing scorpions of the Southwest desert, hundreds of wintering tundra swans in New Jersey, and much more.
About the Author
Vladimir Dinets was born in Russia and immigrated to the United States as a young man. He obtained his PhD in zoology from the University of Miami in 2011, with a focus on animal behavior. He has traveled and photographed extensively all over North America for 17 years. He is the author of Dragon Songs and the Peterson Guide to Finding Mammals in North America.
Praise For Wildlife Spectacles: Mass Migrations, Mating Rituals, and Other Fascinating Animal Behaviors…
"With inspired passion, Vladimir Dinets introduces us to diverse wildlife spectacles, the natural history that drives them, and a checklist of amazing experiences—many of which are closer to home than you might think." —Mark Elbroch, lead scientist of Pumas with Panthera, coauthor of Peterson Reference Guide to the Behavior of North American Mammals
 
"Master zoologist Dinets takes us on an astonishing journey, as luminous images and clear prose teach us essential ecology lessons." —Dr. Cristina Eisenberg, chief scientist of Earthwatch Institute, author of The Carnivore Way: Coexisting with and Conserving North America's Predators

"Wildlife Spectacles is captivating and entrancing in both its information on a multitude of species and the full-color photographs throughout. Their stunning beauty is as much a reason to read this book as the text is." —Shelf Awareness

"This is a lovely book by an experienced behavioral ecologist and talented (and patient) photographer. It is a nice present for one interested in natural history. Particularly useful are the site directions, where one can encounter many of the described spectacles. The reviewer loved this aspect, and is currently making travel plans." —Choice 

"The animal lover on your list will howl with glee when she opens Wildlife Spectacles by Vladimir Dinets." —The Marco Eagle

"This book is all about wildlife and its behavior: migration, mating, parenting and more. Bonus: pictures!" —Oklahoman

"A beautiful coffee table book for animal lovers." —Daily Journal