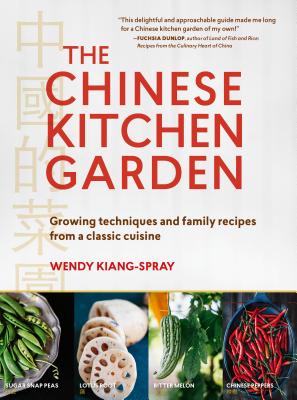 The Chinese Kitchen Garden (Paperback)
Growing Techniques and Family Recipes from a Classic Cuisine
Timber Press, 9781604696776, 240pp.
Publication Date: February 8, 2017
* Individual store prices may vary.
Description
Winner of the Garden Writers Association 2018 Silver Medal of Achievement 
 
Wendy Kiang-Spray's family has strong culinary and gardening traditions. In The Chinese Kitchen Garden, she beautifully blends the story of her family's cultural heritage with growing information for 38 Chinese vegetables—like lotus root, garlic, chives, and eggplant—and 25 traditional recipes like congee, dumplings, and bok choy stir-fry. Organized by season, you'll learn what to grow in spring and what to cook in winter.
About the Author
Wendy Kiang-Spray's articles about gardening and food have appeared in national, local, and web publications. Besides being a passionate gardener, she is a high school counselor, garden speaker, and volunteer with the D.C. Master Gardeners. Wendy blogs at greenishthumb.net.
Praise For The Chinese Kitchen Garden: Growing Techniques and Family Recipes from a Classic Cuisine…
"Wendy Kiang-Spray brings together clear instructions, enticing recipes, and touching family tales in this delightful and approachable guide to Chinese kitchen gardening. Divided into seasonal sections, the book includes well-known Asian vegetables such as Napa cabbage and garlic chives, as well as less familiar treats like Malabar spinach and stem lettuce. This book made me long for a Chinese vegetable garden of my own!" —Fuchsia Dunlop, author of Land of Plenty: A Treasury of Authentic Sichuan Cooking and Land of Fish and Rice: Recipes from the Culinary Heart of China

"The Chinese Kitchen Garden is not just about gardening or Chinese vegetables. Rather, this is a book about food and family, how food brings family together, how food can define a culture, a heritage, a sense of self, even a bridge to one's heritage. Kiang-Spray weaves together memories of her childhood, stories of her parents' lives, and reports of her own daughters' shenanigans, welcoming us into her world, at once Chinese and American. . . . The Chinese Kitchen Garden is that rarest of non-fiction books: a reference built for pleasure reading." —Andrew Weidman, blogger on GRIT

"The Chinese Kitchen Garden is Wendy Kiang-Spray's family story—a daughter's tribute, really—told through the lens of gardening and cooking. It's also a superb guide, packed with tips and insights for growing Asian vegetables, including water chestnuts, bamboo shoots, lotus root and winter melon. An added bonus are some of her family's favorite recipes. Beautiful photos of both Kiang-Spray's and her father's vegetable gardens will inspire cooks and growers alike that cultivating a garden—small or large—is a labor of love that bestows immeasurable rewards." —Grace Young, James Beard Award-winning author of Stir-Frying to the Sky's Edge

"This amazing read brings to life the Chinese way of gardening and cooking. You'll learn wonderful methods to implement in your own garden and kitchen." —Jere Gettle, founder and co-owner of Baker Creek Heirloom Seeds

"Writer and avid gardener Wendy Kiang-Spray grew up watching her family tend to Chinese vegetables and herbs, and now she passes on that tradition with her new cookbook." —Food and Wine Magazine 

"An irresistible addition to the home library." —NYBG's Plant Talk

"Recommended for strong cooking collections." —Booklist

"An essential guide to designing gardens, aimed at prospective professionals and anyone wishing to design their own. . . . The attention to detail is fantastic. . . . reading it felt like I was on a refresher course. . . . Even if you don't want to become a designer, it is a book worth having." —Gardens Illustrated

"An exhaustive volume exploring new trends in garden design: from ecological design to fifty must-have plants for the modern gardener." —Marie Claire House & Home Italy

"Part garden guide, part cookbook, part memoir, Wendy's book introduces readers to 38 Asian vegetables and 25 family recipes." —Better Homes and Gardens

"With so many books on growing food available, those that are new have to capture the imagination, offer something personal, provide reliable guidance and give information on what to do with the produce in the kitchen: this book delivers on all." —The Garden

"In The Chinese Kitchen Garden, [Wendy] beautifully blends the story of her family's cultural heritage with growing information for 38 Chinese vegetables like lotus root, garlic, chives, and eggplant, with 25 traditional recipes like congee, dumplings and bok choy stir-fry." —Herbs Magazine

"Garden books and cookbooks are usually meant for dipping into as information is required; this book you may want to sit down and read right through, because it holds together so well as an integrated story of family, garden, and food." —The Washington Gardener

"Fabulous book. . . . chock-full of great gardening tips and creative recipes." —Garden Therapy 

"Kiang-Spray nicely melds the gardening wisdom of her Chinese family with the viable realities of growing Far East veggies in American gardens. The result is a brave, tasty new world for adventurous gardeners." —Cary Magazine​