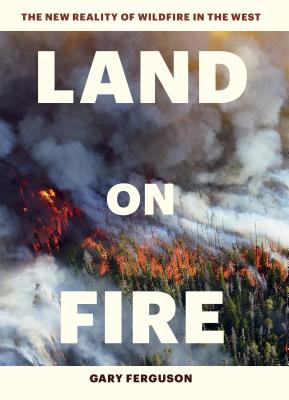 Land on Fire
The New Reality of Wildfire in the West
Hardcover

* Individual store prices may vary.
Description
"This comprehensive book offers a fascinating overview of how those fires are fought, and some conversation-starters for how we might reimagine our relationship with the woods." —Bill McKibben, author of Eaarth: Making a Life on a Tough New Planet
 
Wildfire season is burning longer and hotter, affecting more and more people, especially in the west. Land on Fire explores the fascinating science behind this phenomenon and the ongoing research to find a solution. This gripping narrative details how years of fire suppression and chronic drought have combined to make the situation so dire. Award-winning nature writer Gary Ferguson brings to life the extraordinary efforts of those responsible for fighting wildfires, and deftly explains how nature reacts in the aftermath of flames. Dramatic photographs reveal the terror and beauty of fire, as well as the staggering effect it has on the landscape.
Praise For Land on Fire: The New Reality of Wildfire in the West…
"The massive fire seasons of recent years make it clear we need to think hard about the future of our forests. This compact but comprehensive book offers some conversation starters for how we might reimagine our relationship with the woods." —Bill McKibben, author of Eaarth: Making a Life on a Tough New Planet

"For readers seeking a nuanced understanding of America's increasingly extreme wildfire problem, this is a superb overview. It's just the sort of book I wish someone had handed me when I became a fire lookout fifteen years ago. I learned much from it. You will too."  —Philip Connors, author of Fire Season: Field Notes from a Wilderness Lookout

"Land on Fire provides a complete view of what it is like to deal with the extreme nature of wildfires out of control, and what the future may bring." —Bob Fry, Type 2 Incident Commander, Northern Rockies 
 
"Ferguson provides an incisive rendering of fire ecology, the social impacts of wildfire, and an inside view of the state-of-the-art science and technology behind today's heroic firefighting efforts." —Dr. Cristina Eisenberg, chief scientist at Earthwatch Institute and author of The Carnivore Way: Coexisting with and Conserving North America's Predators

"A stark portrait." —NYBG's Plant Talk

"A terrific book that all designers—but particularly those who live in the West—should study as we re-imagine our relationship with forests and western landscapes." —Garden Design Online​

"An introduction to wildland fire, geared toward aspiring firefighters or those with an interest in broad coverage of the subject." —Choice

"Land on Fire invites us to expand our own awareness about the lessons we, individually and culturally, could learn from the many functions of fire." —Cultivating Place

"Ferguson explores the ways in which fire affects our land, our economy and the ecosystem, and highlights the efforts to prevent and fight wildfires." —California Bountiful

"Comprehensive. . . . highly readable." —The Denver Post

"A profusely illustrated. . . fact-filled. . . eloquent account [that] does precisely what it sets out to do." —The Oregonian

"Written in accessible, elegant language, Land of Fire feels almost like a series of engaging lectures on the science of fire, the history of fire suppression and the mechanics of wildland firefighting, interwoven with a detailed scenario of how a hypothetical fire in southern Colorado would play out." —Daily Camera

 
Timber Press, 9781604697001, 212pp.
Publication Date: June 21, 2017
About the Author
Gary Ferguson has written many books on nature and science including Hawks Rest, the first nonfiction work to win both the Pacific Northwest Booksellers Award and the Mountains and Plains Booksellers Award for Nonfiction, Decade of the Wolf, The Great Divide, and The Carry Home. His articles have appeared in Vanity Fair, the Los Angeles Times, and other publications. His lectures on wilderness are a culmination of 30 years researching—and experiencing—the marriage of wild lands, history, myth, and narrative psychology. Visit him at wildwords.net.