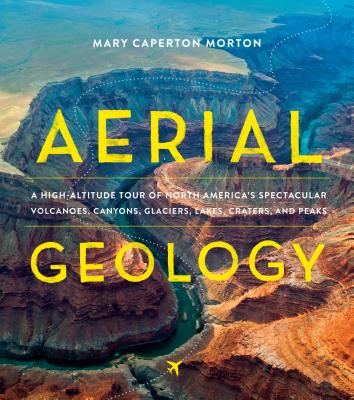 Aerial Geology
A High-Altitude Tour of North America's Spectacular Volcanoes, Canyons, Glaciers, Lakes, Craters, and Peaks
Hardcover

* Individual store prices may vary.
Description
"Get your head into the clouds with Aerial Geology." —The New York Times Book Review

Aerial Geology is an up-in-the-sky exploration of North America's 100 most spectacular geological formations. Crisscrossing the continent from the Aleutian Islands in Alaska to the Great Salt Lake in Utah, Mary Caperton Morton brings you on a fantastic tour, sharing aerial and satellite photography, explanations on how each site was formed, and details on what makes each landform noteworthy. Maps and diagrams help illustrate the geological processes and help clarify scientific concepts. Fact-filled, curious, and way more fun than the geology you remember from grade school, Aerial Geology is a must-have for the insatiably curious, armchair geologists, million-mile travelers, and anyone who has stared out the window of a plane and wondered what was below.
 
Praise For Aerial Geology: A High-Altitude Tour of North America's Spectacular Volcanoes, Canyons, Glaciers, Lakes, Craters, and Peaks…
"An incredibly fascinating and beautiful look at many of my favorite geologic playgrounds—a whole new perspective on the places and formations we love and how these unique landscapes were formed." —Jimmy Chin, National Geographic photographer, The North Face athlete, director of award-winning documentary, Meru

"An unusual, engaging book, enlivened by stories and beautiful aerial views, that shows clearly why geology is best understood from the air." —QT Luong, photographer, author of bestselling Treasured Lands: A Photographic Odyssey Through America's National Parks

"Morton's guide to amazing North American land formations would be notable for its gorgeous aerial photos alone, but it also contains a wealth of information on each location's history." —Booklist

"Get your head into the clouds with Aerial Geology. . . . What better way to introduce geology to any reluctant science student than a book full of breathtaking 'who knew?' moments. Luckily, the writer and mountaineer (and, appropriately enough, resident of Big Sky, Mont.) Mary Caperton Morton knows. Take in the natural splendors of the view from an airplane window: This generously photographed volume even offers flight patterns that will reveal our earthly treasures." —The New York Times Book Review

"Geological history and information about each feature offers readers a richer understanding of the landscape than a coffee table book would provide. However, it must be said that the most eye-catching aspect of the book is its glorious photographs. . . . a reminder that these spectacular landscapes are, if not just around the corner, relatively close to home." —NYBG's Plant Talk

"Offering a bird's eye view that makes geology come alive, science and travel writer Mary Caperton Morton's book feels like a personal helicopter ride across North America. It's an extensive journey that covers Alaska's Aleutian Islands to Maine's Mount Katahdin to Mexico's Chicxulub Crater, among many other breathtaking formations. . . . filled with beautiful photographs and fun facts." —Smithsonian Magazine

"It's a visual feast. . . . A beautiful and massive tome. . . . This book would make an ideal gift for anyone who has an affinity for earth processes and breathtaking pictures." —EARTH Magazine

"Well-written. . . . beautifully illustrated." —GeoTripper

"Filled with incredible images, descriptive illustrations and fact-filled, geology-based explanations of how each site was formed and what makes each landform noteworthy." —Stuck at the Airport  

"Adventure armchair travel. . . . beautiful, fun, educational, and a great, great gift." —Cathy Langer of the Tattered Cover

"We highly encourage you to pick up a copy of Aerial Geology to read and enjoy. Or better yet, send it as a gift to your friends and family. Earth is an amazing place. Once you read Aerial Geology, you'll have a whole new appreciation for our wonderful Planet." —A Mountain Journey
Timber Press, 9781604697629, 308pp.
Publication Date: October 4, 2017
About the Author
Mary Caperton Morton is a freelance science and travel writer. A regular contributor to EARTH magazine, where her favorite beat is the Travels in Geology column, Morton also inspires people to see more of the world with her blog Travels with the Blonde Coyote. In her ten years as a road warrior nomad, she has hiked in all 50 states and evolved from a girl who looks up at the mountains to a woman who climbs to the summits. She now lives at 8,000 feet in Big Sky, Montana.