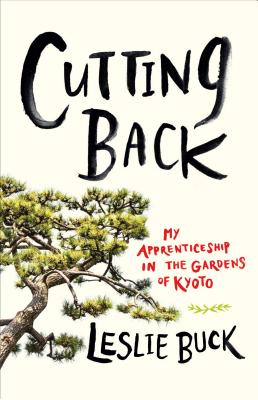 Cutting Back
My Apprenticeship in the Gardens of Kyoto
Hardcover

* Individual store prices may vary.
Other Editions of This Title:
MP3 CD (6/6/2017)
Compact Disc (6/6/2017)
Description
"An unusual and entertaining memoir." —New York Times Book Review

At thirty-five, Leslie Buck made an impulsive decision to put her personal life on hold to pursue her passion. Leaving behind a full life of friends, love, and professional security, she became the first American woman to learn pruning from one of the most storied landscaping companies in Kyoto. Cutting Back recounts Buck's bold journey and the revelations she has along the way.

During her apprenticeship in Japan, she learns that the best Kyoto gardens look so natural they appear untouched by human hands, even though her crew spends hours meticulously cleaning every pebble in the streams. She is taught how to bring nature's essence into a garden scene, how to design with native plants, and how to subtly direct a visitor through a landscape. But she learns the most important lessons from her fellow gardeners: how to balance strength with grace, seriousness with humor, and technique with heart.
Praise For Cutting Back: My Apprenticeship in the Gardens of Kyoto…
"An unusual and entertaining memoir . . . . she learns—about durability and resilience. She learns to prune trees exquisitely. Most of all, she learns that 'an apprentice must . . . be the good student.' Not a bad lesson for any gardener." —New York Times Book Review

"Her writings, inevitably, are a reflection on the contrasts between the roles of the gardener in two very different cultures." —The Washington Post 

"Buck has as good an eye for cultural dissonance as she does for pines that need pruning. . . . This is an absorbing read about the formative interplay of humans, cultures, and gardens." —Publishers Weekly starred review

"The descriptions of the gardens the author tends while in Japan will transport readers; it is an armchair tourist's treat to wander the temple gardens as she describes them." —Library Journal

"Read Cutting Back for insight into Japanese gardening culture, for descriptions of naturalistic Japanese gardens, or if you enjoy travel memoirs." —NYBG's Plant Talk

"If you love losing yourself in natural settings, this memoir is definitely for you. . . . the life lessons Buck learns away from her pruning shears will appeal to any reader." —Bustle

"Leslie Buck's compelling story bring together three themes—a woman's journey in life, adaptation to a new and strange culture, and discovery of a career that fulfills through its challenges. The connecting threads are Japanese gardens and gardening. Gardening is both Buck's profession and a metaphor for Buck's reflection on her life as a cycle of planting, nourishing, and pruning to achieve rich yet balanced growth. These familiar themes feel fresh in Buck's light yet sensitive prose that transmits her adventurous spirit yet reflective soul. Japanese gardens have long been recognized as special, almost magical, places that inspire and nourish. Leslie Buck's memoir gives them a human dimension." —Kendal H. Brown, author of Quiet Beauty: The Japanese Gardens of North America
 
"Leslie Buck offers a graciously pruned story about learning garden care in Japan, where no-one-telling-you-how leads to intimately discovering for yourself what's what--a learning that is "entrenched in your body." Leslie tells her story with charm and good-humor." —Edward Espe Brown, author of Tassajara Bread Book
 
"Gardening in Japan is traditionally a male-dominated occupation. It is awkward and certainly not easy for Japanese women to enter, let alone a young woman from a foreign country.  Leslie's strong conviction to learn Japanese pruning enabled her to dive into this uncharted world. Most impressive of all, however, was her bold move to select Uetoh Zoen in Kyoto, one of the oldest and most highly acclaimed landscape companies in Japan, as her host gardener. The "secrets" of Japanese gardening are subtly yet evidently revealed throughout the memoir, in describing such things as the way we handle pine tree branches, and the way we examine and correct the performance of a novice gardener. Her undeterred enthusiasm has opened a new door for her and for her followers." —Sadafumi Uchiyama, head curator at the Portland Japanese Garden, and third generation Japanese gardener

"She learns to sweep with a twiggy traditional hoki and takes her first steps to becoming a senteishi, or tree pruner." —The Financial Times

"Told with beautiful, carefully crafted language and a perceptively candid voice. . . . the book's core is its intuitive appreciation for nature." —Forward Magazine​

"As much a story of bravery and the challenge of adapting to an unfamiliar culture as it is of horticulture. Anyone contemplating a brave career gamble will learn from it." —San Francisco Chronicle​

"Informative and inspiring. . . . the book will appeal to both gardeners and non-gardeners. As much as Buck's story is about Japanese garden aesthetics, it is also about stepping out of your comfort zone and taking a chance." —The American Gardener

"This should be on the reading lists of university Japanese studies courses because of its insights into the country's apprenticeship systems." —Post Magazine ​

"A fascinating personal account, and not just for gardeners." —The Irish Garden

"A book based on direct experience and encounter, stemming as much from the heart as from backbreaking toil, aching joints and calloused hands." —The Japan Times

"Buck is a fine guide…Reading Cutting Back taught my untrained eye to more fully appreciate the complexities of Japanese formal gardens and the folks who are entrusted to maintain them." —Kyoto Journal
​
Timber Press, 9781604697933, 280pp.
Publication Date: May 3, 2017
About the Author
Leslie Buck is a garden designer and aesthetic pruner who specializes in natural design in the San Francisco Bay Area. She has over two decades of gardening experience, and a fine art degree from U.C. Berkeley and the Bordeaux School of Fine Arts in France. In 2000, Buck studied with Uetoh Zoen, one of the oldest and most highly acclaimed landscape companies in Japan. She has worked, taught, and volunteered in hundreds of private landscapes and as well as dozens of public gardens including the Portland Japanese Garden, Hakone Japanese Garden, Tassajara Zen Center, and Merritt College.