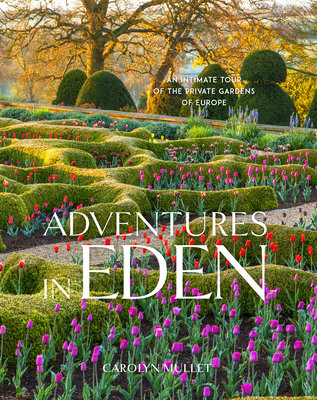 Adventures in Eden
An Intimate Tour of the Private Gardens of Europe
Hardcover

* Individual store prices may vary.
Description
A bucket list tour of Europe's private gardens

Acres of white-blooming garden rooms on the island of Mallorca. A seven-tiered wonder of stone, plants, and water above Germany's Rhine River. The Garden of Cosmic Speculation in a quiet Scottish valley. These sumptuous landscapes are just three of the fifty destinations you'll visit on this exclusive tour of Europe's most beautiful private gardens. From Belgium to Ireland, Scandinavia to Wales, Carolyn Mullet is your guide through intimate retreats normally off-limits to visitors. Short profiles introduce the intriguing owners and rich histories of each garden and the land they inhabit. Among the featured gardens are works of eminent designers such as Tom Stuart-Smith, Andy Malengier, and Louis Benech.

Whether you love exploring faraway places or creating your own landscape haven at home, Adventures in Eden is the ideal armchair getaway—glimpses into personal garden artistry that are sure to spark inspiration.
Praise For Adventures in Eden: An Intimate Tour of the Private Gardens of Europe…
"Homebound gardeners will be dazzled." —Publishers Weekly

"A sumptuous, utterly escapist hardback featuring all the most beautiful gardens in the UK and Europe we could possibly dream of visiting… This book makes a wonderful substitute for travel in these difficult times." —The English Garden

"Adventures in Eden offers a way to get a glimpse of far-off garden perfection from the comfort and safety of home… readers will find much inspiration in both the words and images, as well as plenty of planting and design ideas to adapt at home." —Horticulture

"This image-rich peek at 50 gardens in Britain, Ireland, Scandinavia, France, Belgium, the Netherlands, Germany, Italy and Spain… leaves me longing to visit many of the gardens." —The Washington Post

"A richly illustrated tour of 50 private contemporary gardens across Europe, chosen and led by landscape designer Carolyn Mullet." —Gardens Illustrated

"United by plant-led design, the well-chosen examples include the private domains of Dan Pearson and Tom Stuart-Smith, and others created by Europe's horticultural elite. Each is generously illustrated and accompanied by a short but insightful text that tells the story of the garden's creation." —House & Garden

"A captivating guide to gorgeous gardens, each as diverse as its origins, each as lovely as the other." —The Oregonian

"Enjoy Adventures in Eden for pure escapism, but this wonderful new release also offers attainable inspiration for creating or reimagining your own private garden space." —Winnipeg Free Press

"From Belgium to Ireland, Scandinavia to Wales, Carolyn Mullet is your guide through glorious gardens that are normally off-limits to visitors. It's the ideal armchair getaway." —Garden Answers
 
"This book might just inspire you to live out your own extravagant garden fantasies by starting your own." —The Washington Gardener

"The simple act of enjoying gardens—and, let's be honest, having a good nose around—is at the heart of this beautiful book." —RHS The Garden

"One of the very best garden coffee table books that I've seen." —Literati Bookstore
Timber Press, 9781604698466, 332pp.
Publication Date: December 8, 2020
About the Author
Carolyn Mullet is a prominent landscape designer and the founder of Carex, a garden design and consulting agency in the Washington, D.C., area. She is also the principal of Carex Tours, which has quickly gained a reputation for offering the best-planned, most discerning, and most exciting garden tours anywhere. Find her at carexdesign.com.