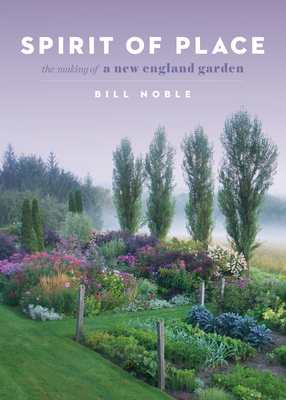 Spirit of Place
The Making of a New England Garden
Hardcover

* Individual store prices may vary.
Description
"Delve into this beautiful book. You'll come away sharing his passion for the beauty that gardens bring into our lives." —Sigourney Weaver, environmentalist, actor, trustee of New York Botanical Garden

How does an individual garden relate to the larger landscape? How does it connect to the natural and cultural environment? Does it evoke a sense of place? In Spirit of Place, Bill Noble—a lifelong gardener, and the former director of preservation for the Garden Conservancy—helps gardeners answer these questions by sharing how they influenced the creation of his garden in Vermont.

Throughout, Noble reveals that a garden is never created in a vacuum but is rather the outcome of an individual's personal vision combined with historical and cultural forces. Sumptuously illustrated, this thoughtful look at the process of garden-making shares insights gleaned over a long career that will inspire you to create a garden rich in context, personal vision, and spirit.
Praise For Spirit of Place: The Making of a New England Garden…
"Bill Noble gets it—about place, plants, and why gardens matter. Delve into this beautiful book. You'll come away sharing his passion for the beauty that gardens bring into our lives." —Sigourney Weaver, environmentalist, actor, trustee of New York Botanical Garden
 
"A gloriously illustrated source of information and inspiration for all who garden seriously." —Marco Polo Stufano, founding director of horticulture, Wave Hill
 
"Bill Noble is that rare combination of a plant collector with an artistic sensibility. He takes us on an intimate walk through his garden, where a tapestry of plantings interacts with mountains and meadows." —Page Dickey, author of Embroidered Ground and the forthcoming Uprooted
 
"The story of a remarkable garden and its creator, through a tour packed with plant information, glorious photographs, secrets, and tricks of the trade." —Antonia Adezio, executive director, Marin Art & Garden Center

"Part memoir, part local history, part gardening how-to and why-to—should inspire all of us to create and celebrate our own special spirit of place." —Wall Street Journal​

"Not only has Bill Noble preserved significant public and private gardens around the country—he has created an extraordinary garden at home…Noble gets into the weeds about what it took to create his own garden in his new book." —New Hampshire Home
 
"Bill Noble is telling the story of his own garden, and it is an object lesson on the considerations involved in the making of any garden." —The New York Times
 
"A lot of history, an abundance of planning and devotion, and a collection of amazing photographs. Bragg Hill is truly a place where the spirit of nature is thriving." —The Oregonian

"A thought-provoking book that nudges the reader to consider how his or her own locale and garden relate to one another, while it also offers design advice for the reader honing his or her own vision." —Horticulture 
 
"Spirit of Place should delight most any gardener or those who dream of being. It paints a portrait of a garden that was essentially created to become or grow into a destination, or better yet, a home. After all, isn't that what a garden should be? Gardens are personal portraits of life." —Growing with Plants

"Bill Noble explores the history of New England gardens and how they were shaped by a rugged landscape, harsh climate, and European ideas about design and plantsmanship." —Gardens Illustrated

"For absolute pure inspiration, to get creative ideas for next year, you must hold a copy of Spirit of Place… Bill Noble leads us into how our gardens can be a reflection of its special place in this landscape and our needs for a spirit of place. Each page is loaded with gorgeous pictures and ideas." —The Concord Monitor

"Noble has learned a lot from his varied experiences and we can all learn something from Spirit of Place, including the inside scoop on the stars of his garden on Bragg Hill." —Connecticut Gardener

"An engaging story and one of 2020's best garden books… Noble brings candid and enlightening observations to his book as well as practical advice and plant lists." —Hortus

"Spirit of Place offers practical knowledge and lofty aspirations to those planning or simply dreaming of a garden of their own." —Chantecaille
Timber Press, 9781604698503, 288pp.
Publication Date: June 23, 2020
About the Author
For 25 years Bill Noble has worked as a garden design and professional in garden preservation. As Director of Preservation for the Garden Conservancy, he was instrumental in the preservation and restoration of dozens of gardens throughout the United States. The insights gained from the gardens and gardeners he has worked with are reflected in his own garden in Norwich, Vermont, which is included in the Smithsonian Institution's Archive of American Gardens and has been featured in Martha Stewart Living, House & Garden, the New York Times, and Outstanding American Gardens.