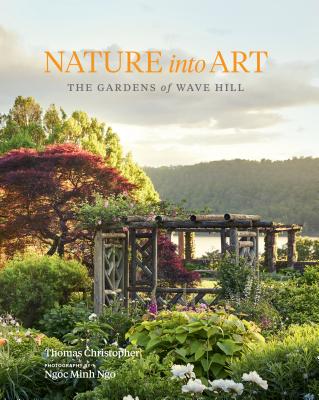 Nature into Art (Hardcover)
The Gardens of Wave Hill
Timber Press, 9781604698510, 288pp.
Publication Date: September 17, 2019
* Individual store prices may vary.
Description
 "Like Wave Hill itself, these pages make an indelible impression—wildly intimate, possibility-laden, provocative—leaving me wide awake and hungry for a visit." —Margaret Roach, author of A Way to Garden

Wave Hill, a world-renowned public garden in the Bronx, boasts a classic horticultural craftsmanship unrivaled among other public gardens in the United States. But it also embraces a design spirit that is daring and innovative. Every year brings changes to Wave Hill: new combinations of colors, textures, and forms, along with creative themes and constant experimentation. Nature into Art brings this splendid, sensory experience home by honoring the unsurpassed beauty of Wave Hill. It explores the different areas of the garden—the flower garden, the shade border, the wild garden, the conservatory, and more—and gives gardeners helpful information on the plants, techniques, and design choices that define this iconic space. Filled with stunning, ethereal photography by Ngoc Minh Ngo, Nature into Art will enchant and inspire you to practice the Wave Hill way of gardening.

 
About the Author
Thomas Christopher is the author of more than a dozen gardening books. He has written for The New York Times, The Journal of the Royal Horticultural Society, and Horticulture Magazine, as well as serving as a columnist for House & Garden and a contributing editor at Martha Stewart Living.
Praise For Nature into Art: The Gardens of Wave Hill…
"A private tour of Wave Hill… the history, design principles, and plants…and how they change through the seasons." —Better Homes and Gardens

"A thorough and fascinating history of an amazing garden. Nature Into Art treats us with an informative and inspiring story of excellence, variety, and perseverance." —Martha Stewart, author, entrepreneur, founder Martha Stewart Living Omnimedia

"Like Wave Hill itself, these pages make an indelible impression—wildly intimate, possibility-laden, provocative—leaving me wide awake and hungry for a visit." —Margaret Roach,  author of A Way to Garden

"Ever since I moved to New York City 30 years ago, I've thought of Wave Hill as my own private garden. But I don't mind sharing. It's a horticultural escape for concrete-weary city folk in all weather, and Ngoc Minh Ngo's poetic photographs capture the passing seasons beautifully." —Stephen Orr, author and editor

"By marrying plantsmanship, artistry, and human comradery, this iconic garden has led the way, earning its place in gardening history and inspiring many to be creative and bold." —Fergus Garrett, head gardener, Great Dixter House and Gardens

"Ngoc Minh Ngo's fulsome color photographs illustrate the thought processes of the garden's designers, and Christopher bestows specificity to the plants depicted. Gives this remarkable garden in the Bronx its full due." —Booklist

"A top gardening book of the year…fabulously illustrated." —The Times

"Spectacular… an engaging story… this book is a testament to the beauty of one of the best public gardens in our great state and country." —The Bronx Traveler Blog

"Enjoy the best of the gardens in this comprehensive new book." —Garden Design Online

"This is a glorious tribute to a stunning public garden in the Bronx. The 288-page hardback book is a work of artistry and love, and it is so much more." —The Oregonian

"Nature into Art explores different areas of the gardens, with helpful information about the plants, techniques and design choices that define this remarkable garden." —NYC's City Guide

"Both fascinating and useful to those gardeners who enjoy experimenting with plants and design." —Horticulture

"A photographic bouquet…its own gateway into Wave Hill." —The Riverdale Press