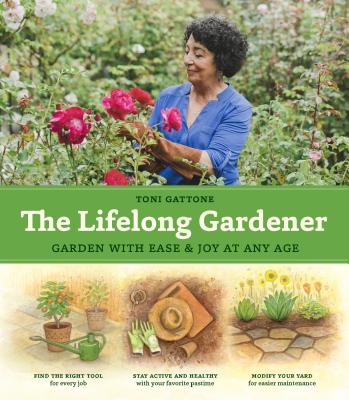 The Lifelong Gardener
Garden with Ease and Joy at Any Age
Hardcover

* Individual store prices may vary.
Description
"The secret to making the most of later life is to keep doing what you love. With practical advice and gentle inspiration, Gattone shows us how gardening can work for people of any age." —Carl Honoré, author of In Praise of Slowness

You can keep gardening for life, you just need to make adjustment as you age. In The Lifelong Gardener, adaptive gardening expert Toni Gattone shares her proven methods for making your favorite hobby easier on your aging body—techniques that that will help you garden smarter, not harder. This helpful guide includes dozens tried-and-true methods that help eliminate the physical strain of gardening, like buying ergonomic tools, using raised beds, and moving tools around in bins on wheels. The Lifelong Gardener celebrates the joy of gardening, and Gattone's message of empowerment will stir you to find joy in your garden for years to come.
Praise For The Lifelong Gardener: Garden with Ease and Joy at Any Age…
"Toni's ways for adapting to older, less-flexible bodies are practical, and the projects are useful. Don't miss out on a favorite lifelong activity—adapt just a little." —Ruth Rogers Clausen, horticulturist, lecturer, and co-author of Essential Perennials and Proven Winners

"Gattone's suggestions focus first on the needs of a gardener's body… Practical and sweet, [her] pep talk is perfect for any aging gardener thinking of throwing in the trowel." —Publishers Weekly

"Gattone achieves her goal of offering practical adaptations to keep aging gardeners productive and safe. A wide range of gardeners with all levels of experience and abilities will benefit from this sensible book" —Library Journal

"This book is a terrific resource. I would add that it's not just for the ageing gardener because there are so many good ideas presented here for ALL gardeners…I can't wait to recommend this book to my readers and audiences." —Lorraine Ballato, author of Success With Hydrangeas

"Excellent.. includes a compilation of why and how you can maintain your physical fitness for working in the garden." —George Graine, blogger at The Graine Thumb

"Beautifully tailored to women who are approaching their golden years or who suffer from chronic pain... Practical advice and easy adaptations… Positive and empowering." —Woman's World

"The Lifelong Gardenershares simple solutions—from vertical growing to bins on wheels—that will help you work smarter, not harder. Her message of empowerment will stir you to find joy in your garden for years to come!" — Washington Gardener

"Both stubborn aging gardeners and young cocky ones will find this book useful. My copy is already dogeared and dirty, the mark of a good gardening book!" —Gardening with What You Have

"An honest and realistic approach to keeping we baby boomers active, outside and in our gardens… A thoughtful, sensitive and practical guide to "adaptive gardening" with advice on smart techniques, modifications and tools." —The Oregonian

"A fantastic read." —Season After Season

"The Lifelong Gardener is filled with a wealth of practical information for making gardening accessible throughout our lives." —Susan's In the Garden

"This book is an encouraging guide on how to continue gardening even when it seems impossible."—American Gardener

"The Lifelong Gardener is just what we need! Perfect for gifting or for the aging gardener." —Cottage in the Court

 
Timber Press, 9781604698534, 216pp.
Publication Date: August 20, 2019
About the Author
Toni Gattone is a passionate gardener and entrepreneur. She is a Master Gardener and has been a member and leader of the National Speakers Association. She frequently writes and speaks on topics of adaptive gardening and edible landscapes.