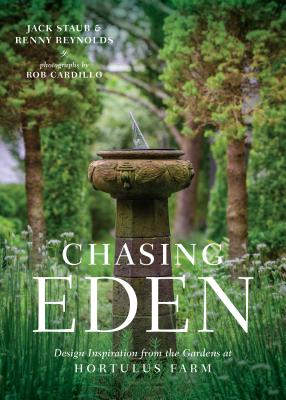 Chasing Eden
Design Inspiration from the Gardens at Hortulus Farm
Hardcover

* Individual store prices may vary.
Description
"Vision, tenacity, and a perfectionist's eye are the qualities that shine out from this account of a paradise garden created by two of America's foremost stylists." —Anna Pavord, author of The Curious Gardener and Landskipping

One of the most spectacular private gardens in America, Hortulus Farm is the masterpiece of Renny Reynolds and Jack Staub, renowned experts in the fields of design, gardening, and entertaining. It is beautifully captured in Chasing Eden, a lavishly illustrated roadmap to creating a personal Eden.

Hortulus Farm is a not only a model of classical tenets, but also a showcase of how traditions can be successfully broken. Gardeners will discover information on specific design principles, from vistas and allées to hardscaping and water features. They will also learn how to adapt these principles to less-than-optimal settings without sacrificing a site's sense of place. Both aspirational and practical, Chasing Eden will inspire home gardeners to create their own earthly paradise.
Praise For Chasing Eden: Design Inspiration from the Gardens at Hortulus Farm…
"Jack Staub and Renny Reynolds embody all the traits that one sees in the very best gardeners—fearlessness, passion, and an indefatigable desire to create a very personal version of paradise. Hortulus Farm is set squarely and joyfully at the intersection of man and nature." —James Brayton Hall, president and CEO, The Garden Conservancy
 
"Vision, tenacity, and a perfectionist's eye are the qualities that shine out from this account of a paradise garden created by one of America's foremost stylists. This is a thrilling and inspiring story." —Anna Pavord, author of The Curious Gardener and Landskipping
 
"A fabulous adventure in armchair gardening—all of the pleasure and none of the backache!" —Jinny Blom, landscape gardener and author of The Thoughtful Gardener
 
"Jack and Renny have set the stage for others to be inspired by their design excellence and story. Chasing Eden is not only a beautiful book; it will serve as a template for generations of future gardeners to create their very own Garden of Eden." —Paul B. Redman, president and CEO, Longwood Gardens

"Gorgeous."—Antiques Gardens Birmingham

"A true story that will make your heart sing and your thumb itch to begin planting…read this and reap the enthusiasm, and you'll be ready to chase your own Eden right from your backyard." —The News Tribune

"Staub and Reynolds provide gardening inspiration, entertaining reading, and horticultural education in a title that a wide range of hobbyists, garden historians, and design professionals should enjoy." —Library Journal

"A rich and thought-provoking exploration of the why and how of garden making that will interest anyone whose spirits soar with a good garden visit." —The Council on Botanical and Horticultural Libraries

"The book's advice is generous, and it's authors put forth that it is meant for gardeners of any ability and gardens of any size." —Horticulture
 
Timber Press, 9781604698732, 272pp.
Publication Date: January 7, 2020
About the Author
Jack Staub, popular lecturer, playwright, and avid gardener, is widely considered to be one of the country's leading experts on edible gardening. His celebrated vegetable, herb, and fruit gardens at Hortulus Farm have been featured in a wide variety of magazines as well as a series of books.
Renny Reynolds, founder of Renny & Reed in New York City, is one of the nation's most renowned entertaining, gardening, and lifestyle experts. His definitive book,
The Art of the Party,
is known as the party-planner's bible, and his event and garden designs have been featured in shelter, garden, and lifestyle magazines.  
Rob Cardillo has been photographing gardens, plants, and the people who tend them for more than 20 years. Formerly the director of photography at Organic Gardening, he now works for major publishers, horticultural suppliers, and landscape designers throughout the United States. Visit him at robcardillo.com.