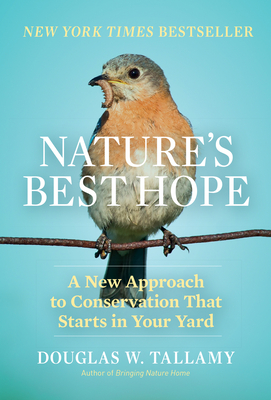 Nature's Best Hope (Hardcover)
A New Approach to Conservation that Starts in Your Yard
Timber Press, 9781604699005, 256pp.
Publication Date: February 4, 2020
* Individual store prices may vary.
Description
"Doug Tallamy is a quiet revolutionary and a hero of our time, taking back the future one yard at a time. In Nature's Best Hope, he shows how each of us can help turn our cities, towns and world into engines of biodiversity and human health." —Richard Louv, author of The Nature Principle and Last Child in the Woods

Douglas W. Tallamy's first book, Bringing Nature Home, awakened thousands of readers to an urgent situation: wildlife populations are in decline because the native plants they depend on are fast disappearing. His solution? Plant more natives. In this new book, Tallamy takes the next step and outlines his vision for a grassroots approach to conservation. Nature's Best Hope shows how homeowners everywhere can turn their yards into conservation corridors that provide wildlife habitats. Because this approach relies on the initiatives of private individuals, it is immune from the whims of government policy. Even more important, it's practical, effective, and easy—you will walk away with specific suggestions you can incorporate into your own yard.
 
If you're concerned about doing something good for the environment, Nature's Best Hope is the blueprint you need. By acting now, you can help preserve our precious wildlife—and the planet—for future generations.
 
About the Author
Doug Tallamy is a professor in the Department of Entomology and Wildlife Ecology at the University of Delaware, where he has authored 95 research publications and has taught insect related courses for 39 years. Chief among his research goals is to better understand the many ways insects interact with plants and how such interactions determine the diversity of animal communities. His book Bringing Nature Home was awarded the 2008 Silver Medal by the Garden Writers' Association. The Living Landscape, co-authored with Rick Darke, was published in 2014. Doug's new book Nature's Best Hope will be available February 2020. Among his awards are the Garden Club of America Margaret Douglas Medal for Conservation and the Tom Dodd, Jr. Award of Excellence, and the 2018 AHS B.Y. Morrison Communication Award.
Praise For Nature's Best Hope: A New Approach to Conservation that Starts in Your Yard…
"Doug Tallamy is a quiet revolutionary and a hero of our time, taking back the future one yard at a time. In Nature's Best Hope, he shows how each of us can help turn our cities, towns and world into engines of biodiversity and human health."—Richard Louv, author of The Nature Principle and Last Child in the Woods
 
"Here is one area where individual action really can help make up for all that government fails to do: your backyard can provide the margin to keep species alive. Mow less, think more!"—Bill McKibben, author of Falter
 
"Tallamy shows how to transform yards into ecological wonderlands full of vibrant life. Your local birds, butterflies, and plants will thank you for learning from his wise advice."—David George Haskell, author of The Forest Unseen, Pulitzer finalist, and The Songs of Trees
 
"This is a handbook for not only transforming your own yard, but for talking to your neighbors, the teachers in the paved schoolyard next door, and your town councilors about connecting one green haven to another to build wildlife corridors that become, as Tallamy puts it, a Homegrown National Park."—Anne Raver, award-winning columnist and author of Deep in the Green
 
"A clarion call to go native: acting locally in your yard or neighborhood and thinking globally about the biodiversity crisis."—Scott Freeman, author of Saving Tarboo Creek
 
"Doug Tallamy's inspiring vision of a human landscape capable of supporting a wondrous diversity of life is powerfully articulated in Nature's Best Hope."—Rick Darke, landscape designer, lecturer, photographer, and coauthor of Gardens of the High Line