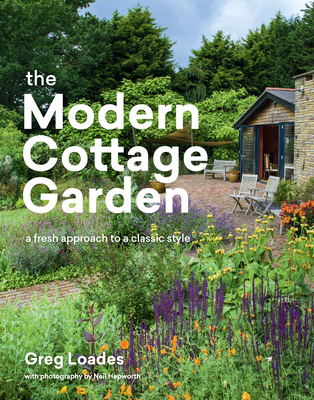 The Modern Cottage Garden
A Fresh Approach to a Classic Style
Hardcover

* Individual store prices may vary.
Description
"An inspirational book, with encouraging words and down-to-earth advice for achieving a year-round beautiful garden." —Michael Marriott, chief rosarian at David Austin Roses

In this practical and inspirational guide, Greg Loades presents a new style of planting: a fusion between classic cottage style and the new perennial movement. Using real gardens as examples, The Modern Cottage Garden teaches gardeners how to combine the best of both styles—big, colorful blooms and striking grasses and native plants—into one beautiful space that requires little maintenance and has a long season of interest. Fresh planting ideas for containers, small gardens, and diverse climates present an exciting style that can shine anywhere.
Praise For The Modern Cottage Garden: A Fresh Approach to a Classic Style…
"Greg's enthusiasm for plants and for this unbridled gardening approach is clear. The result is encouragement for those new to the style and reassurance to embolden the spirit of those already convinced of its merits." —Chris Beardshaw, garden designer and broadcaster
 
"An inspirational book, with encouraging words and down-to earth advice for achieving a year-round beautiful garden." —Michael Marriott, chief rosarian at David Austin Roses

"Gorgeous, full-page color photos of gardens designed using Loades's approach will propel readers to the nearest plant nursery. Herbophiles will find it impossible not to get drawn into Loades's blossoming world." —Publisher's Weekly

"Loades writes in a lively and enthusiastic style, using many a fetching simile to illustrate a point. This is a practical book, well-founded in personal experience, and will empower its readers to indulge their passions and experiment, no matter how limited a space they have at their disposal." —Gardens Illustrated

"With Loades' guidance, avid and beginning gardeners will feel comfortable designing and choosing the plant heroes of their cottage garden." —Booklist

"Greg Loades reveals the secret technique that opens up a world of nostalgia for gardeners with small spaces." —The Telegraph

"Well written and beautifully illustrated, this one is highly recommended." —Dirt Therapy

"In The Modern Cottage Garden, different needs and desires come together to make a modern cottage or cottage-style garden truly special." —English Home

"A practical and inspirational guide to a new style of planting." —Country Homes & Interiors

"What stands out in this book is practical advice mixed with an experienced appraisal of the attributes of selected perennial plants." —The Press-Enterprise

"An inspiring and imaginative guide." —The Daily Mail

"Outlines how to fuse the elements of a traditional and new-age landscape for the perfect modern garden." —Cottages & Bungalows

"This book will help take you to the next level. Included is a very original list of the author's must-have plants, that will add the most textural value to whatever you've already planted." —Literati Bookstore

"The Modern Cottage Garden provides details and recommendations relevant for not only cottage gardens but for all garden types. This book will bring you out of pandemic funk into excitement for an autumn full of planning and planting a new garden." —Triangle Gardener
 
Timber Press, 9781604699081, 228pp.
Publication Date: September 15, 2020
About the Author
Greg Loadesis editor of The Alpine Gardener and writes frequently about gardens and gardening for magazines such as Kew, LandScape, and Garden News. His writing has also appeared in many popular publications, including BBC Gardeners' World magazine, where he was gardening editor, and the luxury garden publication The English Garden, where he was deputy editor. He served his apprenticeship in the rose industry in the UK. Today Greg lives in Hull with his wife and son and has a small backyard terraced house garden packed with perennials, grasses, and, of course, roses! Follow his gardening life on Instagram: @hull_urban_gardener.