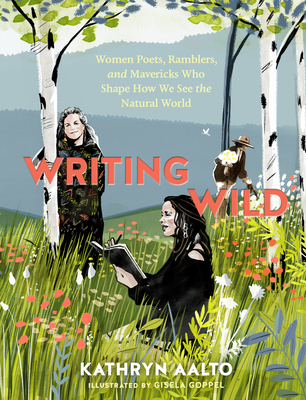 Writing Wild
Women Poets, Ramblers, and Mavericks Who Shape How We See the Natural World
Paperback

* Individual store prices may vary.
Description
"Re-centers and gives voice to a diversity of women naturalists and writers across time." —Cultivating Place

In Writing Wild, Kathryn Aalto celebrates 25 women whose influential writing helps deepen our connection to and understanding of the natural world. These inspiring wordsmiths are scholars, spiritual seekers, conservationists, scientists, novelists, and explorers. They defy easy categorization, yet they all share a bold authenticity that makes their work both distinct and universal. Part travel essay, literary biography, and cultural history, Writing Wild ventures into the landscapes and lives of extraordinary writers and encourages a new generation of women to pick up their pens, head outdoors, and start writing wild.

Featured writers include Dorothy Wordsworth, Susan Fenimore Cooper, Gene Stratton-Porter, Mary Austin, and Vita Sackville-West. Nan Shepherd, Rachel Carson, Mary Oliver, Carolyn Merchant, and Annie Dillard. Gretel Ehrlich, Leslie Marmon Silko, Diane Ackerman, Robin Wall Kimmerer, and Lauret Savoy. Rebecca Solnit, Kathleen Jamie, Carolyn Finney, Helen Macdonald, and Saci Lloyd. Andrea Wulf, Camille T. Dungy, Elena Passarello, Amy Liptrot, and Elizabeth Rush.
Praise For Writing Wild: Women Poets, Ramblers, and Mavericks Who Shape How We See the Natural World…
"What a joy to travel these paths alongside Kathryn Aalto and such fierce, trailblazing, and perceptive women." —Sarah L. Kaufman, Pulitzer Prize-winning Washington Post critic and author of The Art of Grace

"An impassioned and illuminating anthology that serves as an act of recovery and discovery, a personal celebration, and a timely reminder of the wealth and sheer power of women's voices." —Rob Cowen, author of Common Ground
 
"Kathryn Aalto brilliantly braids engaging personal narrative with accessible literary biography, to take readers on an inspiring pilgrimage." —Michael P. Branch, author of Rants from the Hill and How to Cuss in Western

"An amazing, rich resource that rises above visions of conquest and domination to reveal the possibility of meeting eye-to-eye with wildness, and of being broken open and changed." —Foreword

"This book is a wonderful jumping-off point for anyone who loves the outdoors and wants to know more about the many talented female writers who have made it their work's focus." —BookPage

"A fantastic resource for readers looking to grow their TBR piles." —The Los Angeles Times

"Exciting, inspiring, intimidating, and bold." —San Francisco Book Review
 
"A luminous collection of mini-biographies of female nature writers past and present. Beautifully illustrated by Gisela Goppel, Aalto's book champions historical figures like Rachel Carson and Vita Sackville-West, and contemporary writers like Rebecca Solnit and Robin Wall Kimmerer. She makes a point of including Indigenous and Black female authors, ending each chapter with a list of (even) further reading to explore." —Shelf Awareness

"A heartening book, granting attention to women who dared to write and ramble wild." —BBC Countryfile

"This fine and thoughtful book puts these remarkable women writers right smack bang in to focus where they belong—as key shapers of how we see the natural world." —James Rebanks, author of The Shepherd's Life

"Writing Wild is an illuminating examination of voices often pushed to the side, challenging the canon of nature writing as it stands. It's a book I'll keep on the shelf—I'm certain I'll return to it often." —Buzzfeed Books

"Writing Wild re-centers and gives voice to a diversity of women naturalists and writers across time. It charts often un-heard women's voices in naturalist writing–from long-dead women such as Dorothy Wordsworth and Gene Stratton Porter to more contemporary voices such as Gretel Ehrlich, Leslie Marmon Silko, Lauret Savoy, and Camille Dungy." —Cultivating Place
 
"Writing Wild celebrates 25 women who opened the door to the outside and led readers through it." —The Jefferson Exchange

"A succinct introduction to women nature writers, this elegant compilation should have a broad reach and inspire readers to seek out more about the authors featured… Aalto writes in an easy, friendly style that makes readers feel as if they are walking the paths of these women with her." —Library Journal

"A great bibliographic source of the works by women that have written about nature." —The New Jersey Mycological Association

"Writing Wild celebrates women who did not let gender inhibit them. With Nature being an intrinsic part in their lives, this is a fascinating read." —Friday Magazine

"A fresh perspective on connecting with and understanding the natural world. So many (s)heroes." —The Seattle Times
Timber Press, 9781604699272, 288pp.
Publication Date: June 23, 2020
About the Author
Kathryn Aalto is an American landscape designer, historian, writer, and lecturer living in Exeter, England. She has master's degrees in garden history and creative nonfiction with a particular interest in literary landscapes. Before her expat life, she taught American Literature of Nature and Place in the Pacific Northwest. She is a member of the Association for the Study of Literature and the Environment, the Association of Writers and Writing Programs, and Garden Communicators International. Her website is kathrynaalto.com.