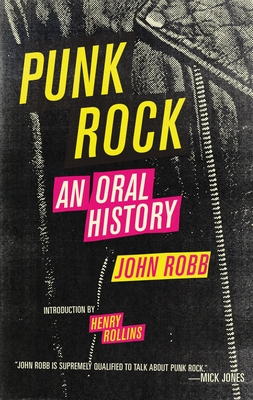 Punk Rock (Paperback)
An Oral History
PM Press, 9781604860054, 576pp.
Publication Date: July 17, 2012
Other Editions of This Title:
Paperback (7/1/2010)
* Individual store prices may vary.
Description
Vibrant and volatile, the punk scene left an extraordinary legacy of music and cultural change, and this work talks to those who cultivated the movement, weaving together their accounts to create a raw and unprecedented oral history of punk in the United Kingdom. From the Clash, Crass, Henry Rollins, and John Lydon to the Sex Pistols, the Stranglers, and the Buzzcocks, this reference features more than 150 interviews that encapsulate the most thrilling wave of rock and roll pop culture ever seen. Ranging from its widely debated roots in the late 1960s to its enduring influence on modern bands, fashion, and culture, this history brings to life the energy and anarchy as no other book has done.
About the Author
John Robb is the founder of the 1970s punk rock band the Membranes and is a current member of the group Goldblade. He is the author of Death to Trad Rock, The North Will Rises Again: Manchester Music City 1976–1996, and The Stone Roses. He lives in Manchester, England. Lars Fredriksen is a member of the punk rock band Rancid. He lives in Oakland, California.
Praise For Punk Rock: An Oral History…
"Its unique brand of energy helps make it a riot all its own."  —Harp Magazine


"Robb, in an ambitious compendium, with brief forewords by Michael Bracewell and Black Flag's Henry Rollins, provides those who were there and many of us who listened from a distance in time or space the sensation of freedom."  —www.PopMatters.com
"John Robb is a great writer . . . and he is supremely qualified, in my opinion, to talk about punk rock."  —Mick Jones, The Clash


"Former Membrane John Robb recognized the gap in the tale that appears in any third person telling: the punks didn't get to tell their side of the story in their own words. So he went to work on picking the brains of over 100 first and second wavers and ended up with Punk Rock: An Oral History." —www.PsychoBabble200.blogspot.com
"With its brilliant balance of in-depth information and accessibility, this title will be equally at home on academic, public, and personal library shelves. Essential for punk fans and highly recommended for readers interested in firsthand accounts of the growth of new cultural movements." —Library Journal (December 2012)
"It takes a punker to write one of the definitive books on punk rock that exploded on the music scene in the mid-1970s before fragmenting into niches like Oi, Hardcore and Two Tone. John Robb (The Membranes) has written such [a] book." —www.IBRNews.com
"From the early pub scene, to the U.K. debut of The Ramones, from the grrrl power of The Slits, to the chaotic saga of The Sex Pistols, from 1977 to the peak of the second wave and beyond. Robb chronicles it all through those who lived through it." —www.DonPalabraz.com
"I'd say it's as close to a go-to tome as you're gonna get if you're looking for a street-level account of the origins of Europe's wing of the punk revolution." —Razorcake (February 2013)