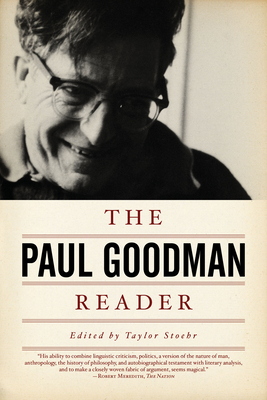 The Paul Goodman Reader (Paperback)
PM Press, 9781604860580, 500pp.
Publication Date: April 1, 2011
* Individual store prices may vary.
Description
A one-man think tank, Paul Goodman wrote more than 30 books, most of them before his decade of fame as a social critic in the 1960s. Goodmanin those earlier daysthought of himself mostly as an old-fashioned man of letters, and to do justice to his wide-ranging interests and growing activism, this compendium provides excerpts that span his entire career, from the bestselling "Growing Up Absurd" to landmark books on anarchism, community planning, education, poetics, and psychotherapy.Goodman's fiction and poetry are representedby "The Empire City," a comic novel; prize-winning short stories; and poems that once led America's most respected poetry reviewer, Hayden Carruth, to exclaim, "Not one dull page. It's almost unbelievable.
About the Author
Paul Goodman was the author of "Drawing the Line" and "Growing Up Absurd." Known as "the philosopher of the New Left," he set the agenda for the youth movement of the 1960s, producing new books every year throughout the decade while lecturing to hundreds of audiences on subjects from movement politics and community planning to language theory and the media. Taylor Stoehr is Paul Goodman's literary executor and a professor of English at the University of MassachusettsBoston. He has editednumerous volumes of Goodman's fiction, poetry, and social commentary in addition to being the author of several other books on literary and cultural criticism and the translator of two poetry collections. He lives in Boston, Massachusetts."
Praise For The Paul Goodman Reader…
"Goodman, like all real novelists, is, at bottom, a moralist. What really interests him are the various ways in which human beings living in a modern metropolis gain, keep, or lose their integrity and sense of selfhood."  W. H. Auden, poet

"As this decade in America careens, recoils, and shrieks along, Paul Goodman appears increasingly as our most exemplary intellectual, that is, the most deeply representative and the most worthy one."  Washington Post

"Any page by Paul Goodman will give you not only originality and brilliance but wisdom, that is, something to think about. He is our peculiar, urban, twentieth-century Thoreau, the quintessential American mind of our time."  Hayden Carruth, poet and essayist

"It was that voice of his that seduced methat direct, cranky, egotistical, generous American voice."  Susan Sontag, novelist and public intellectual

"No one writing now in America makes better sense of literary subjects."  The Nation

"This celebratory compendium is as pertinent today as when Goodman first furiously put pen to paper, and while there may be few concrete answers, Goodman's way of seeing is riveting and decidedly infectious." Publishers Weekly (July 23, 2011)
or
Not Currently Available for Direct Purchase