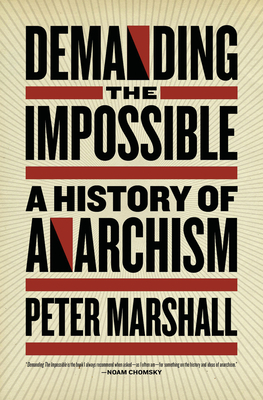 Demanding the Impossible (Paperback)
A History of Anarchism
PM Press, 9781604860641, 800pp.
Publication Date: January 1, 2010
* Individual store prices may vary.
Description
Lively and authoritative, this study of a widely misunderstood subject skillfully navigates the rough waters of anarchistic concepts—from Taoism to Situationism, ranters to punk rockers, individualists to communists, and anarcho-syndicalists to anarcha-feminists. Exploring key anarchist ideas of society and the state, freedom and equality, authority and power, the record investigates the successes and failures of anarchist movements throughout the world. Presenting a balanced and critical survey, the detailed document covers not only classic anarchist thinkers—such as Godwin, Proudhon, Bakunin, Kropotkin, Reclus, and Emma Goldman—but also other libertarian figures, such as Nietzsche, Camus, Gandhi, Foucault, and Chomsky. Essential reading for anyone wishing to understand what anarchists stand for and what they have achieved, this fascinating account also includes an epilogue that examines the most recent developments, including postanarchism and anarcho-primitivism as well as the anarchist contributions to the peace, green, and global justice movements of the 21st century.
About the Author
Peter Marshall is a philosopher, a historian, a poet, and the author of 15 books, including Nature's Web: Rethinking Our Place on Earth.

Praise For Demanding the Impossible: A History of Anarchism…
"Blowing away cobwebs of misunderstanding and misrepresentation, this is a stimulating portrait of a highly varied but distinctive political ideal, tradition, and practice arising from the enduring human impulse to be free." —Publishers Weekly
"[This is] the book I always recommend when asked—as I often am—for something on the history and ideas of anarchism." —Noam Chomsky
"Large, labyrinthine, tentative: for me these are all adjectives of praise when applied to works of history, and [this book] meets all of them." —George Woodcock, Independent
"Attractively written and fully referenced . . . bound to be the standard history." —Colin Ward, Times Educational Supplement
"Though this highly engaging book can certainly be read from start to finish, I expect that its ultimate role in the average reader's life will be as a reference; not like an encyclopedia but rather more like a favorite author' collected works or a Bible: a massive repository of wisdom and of histories that might be otherwise lost to us." —Time Out New York