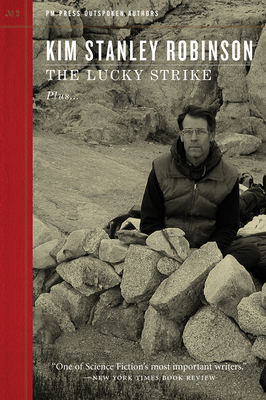 The Lucky Strike (Outspoken Authors) (Paperback)
PM Press, 9781604860856, 144pp.
Publication Date: October 1, 2009
* Individual store prices may vary.
Description
Combining dazzling speculation with a profoundly humanist vision, this astounding alternate history tale presents a dramatic encounter with destiny wrapped around a simple yet provocative premise: the terrifying question of what might have happened if the fateful flight over Hiroshima had gone a bit differently. An extensive interview with the author, offering insight into his fiction and philosophies, is also included.
About the Author
Kim Stanley Robinson is the author of Antarctica, Fifty Degrees Below Zero, The Martians, Sixty Days and Counting, and The Years of Rice and Salt, as well as the award-winning Mars trilogy. He lives in Davis, California.
Praise For The Lucky Strike (Outspoken Authors)…
"This stimulating little chapbook would work very well as a basis for classroom debate on speculative fiction, history, or the notion of free will." —Publishers Weekly
"It's no coincidence that one of our most visionary science fiction writers is also a profoundly good nature writer." —Los Angeles Times
"The best nature writer in the U.S. today also happens to write science fiction." —The Ends of the Earth
"The foremost writer of literary utopias." —Time magazine