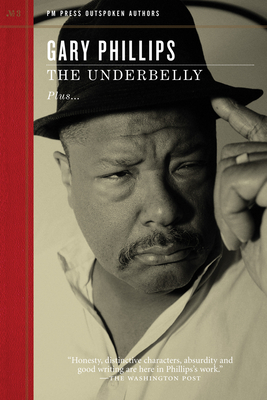 The Underbelly (Outspoken Authors) (Paperback)
PM Press, 9781604862065, 144pp.
Publication Date: September 1, 2010
* Individual store prices may vary.
Description
Providing insight on homelessness, political corruption, and the potential effects of gentrification, this urban noir tells the tough story of Magrady, a semi-homeless Vietnam veteran in Los Angeles. As he searches for a friend who has gone missing from Skid Row and who may be involved in a dangerous scheme, Magrady must deal with take-no-prisoners community organizers, an unflinching cop from his past, frequent flashbacks of war, an elderly sexpot, the drug culture, and the perils of chili cheese fries at midnight. A rollicking interview with the author wherein he discusses ghetto literature, politics, noir and the proletariat, and the unknown future of books, is also included.
About the Author
Gary Phillips is the author of Bangers, The Jook, and Violent Spring. He is a former union representative and south central Los Angeles community organizer. He lives in Los Angeles.
Praise For The Underbelly (Outspoken Authors)…
"Firmly rooted in the hard-boiled tradition." —Publishers Weekly
"Honesty, distinctive characters, absurdity, and good writing . . . are here in Phillips's work." —Washington Post
"Magrady's adventures, with a distinctive noir feeling and appreciation for comic books, started as a serialized mystery. An interview with Phillips enhances the package, offering a compelling perspective on race and class issues in South Central L.A." —Booklist
"The slimness of the edition belies the effort PM Press has made to contextualize radical narratives, with an interview and other supplementary materials included in the volume" —Molly Odintz, http://crimereads.com/