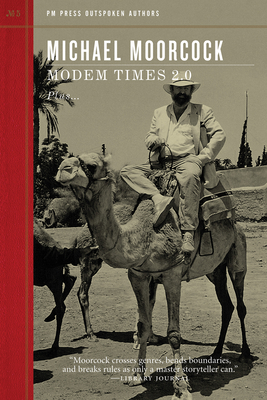 Modem Times 2.0 (Outspoken Authors) (Paperback)
PM Press, 9781604863086, 128pp.
Publication Date: January 20, 2011
* Individual store prices may vary.
Description
Jerry Cornelius—Michael Moorcock's fictional audacious assassin, rockstar, chronospy, and possible Messiah—is featured in the first of two stories in this fifth installment of the Outspoken Author series. Previously unpublished, the first story is an odyssey through time from London in the 1960s to America during the years following Barack Obama's presidency. The second piece is a political, confrontational, comical, nonfiction tale in the style of Jonathan Swift and George Orwell. An interview with the author rounds out this biting, satirical, sci-fi collection.
About the Author
Michael Moorcock is the author of numerous novels, including the Elric series, "Cornelius Quartet," "Gloriana," and "The White Wolf's Son." He has received the Nebula, World Fantasy, and British Science Fiction awards and is a Grandmaster of the Science Fiction and Fantasy Writers of America. As editor of the science fiction magazine "New Worlds," Moorcock was one of the progenitors of the controversial New Wave movement. His nonfiction works have appeared in the "Daily Telegraph, ""Guardian," and "New Statesman." He lives in Austin, Texas.
Praise For Modem Times 2.0 (Outspoken Authors)…
"A major novelist of enormous ambition." —Washington Post
"Moorcock is a throwback to such outsized 19th-century novelistic talents as Dickens and Tolstoy." —Locus Magazine
"The nonlinear narrative skips along like a scratched DVD, but never loses sight of the central concern: how does the tension between remembering and forgetting sustain us through the stress of unending disasters? Also included are . . . a short reminiscence of Moorcock's life from the 40s to the 90s, and a wonderfully insightful interview . . . conducted by editor Terry Bisson." —Publishers Weekly (April 4, 2011)
"[This book includes] an appropriately baffling and non-linear Jerry Cornelius short story; the essay "My Londons," a clear-eyed reflection on Moorcock's life in that most iconic of cities; and an interview with Moorcock conducted by series editor Terry Bisson." —Austin Statesman (April 4, 2011)
or
Not Currently Available for Direct Purchase