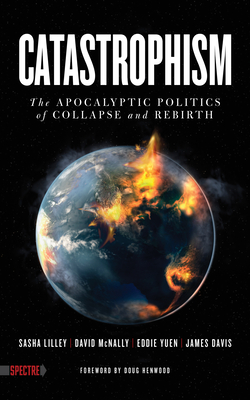 Catastrophism: The Apocalyptic Politics of Collapse and Rebirth (Paperback)
The Apocalyptic Politics of Collapse and Rebirth
PM Press, 9781604865899, 163pp.
Publication Date: October 5, 2012
* Individual store prices may vary.
or
Not Currently Available for Direct Purchase
Description
Amid a global zeitgeist of impending catastrophe, this book explores the culture of fear so prevalent in today's politics, economic climate, and religious extremism. The authors of this collection argue that the lens of catastrophe through which so many of today's issues are examined distorts understanding of the dynamics at the heart of numerous problems, such as global warming, ultimately halting progress and transformation. Arguing that catastrophic thinking results in paralysis or reactionary politics, the authors posit that the myths of 2012 have negative affects across the political spectrum and urge activists not to give up their beliefs and instead focus on working on issues now instead of waiting until society has ended and needs to be rebuilt.
About the Author
Sasha Lilley is a writer and radio broadcaster and the author of "Capital and Its Discontents." She lives in Oakland, California. David McNally is a professor of political science at York University in Toronto. He is the author of "Another World" and "Global Slump." He lives in Toronto. Eddie Yuen teaches at the San Francisco Art Institute and is the author of "Confronting Capitalism." He lives in San Francisco. James Davis is a documentary filmmaker. He lives in San Francisco. Doug Henwood is a publisher and editor. He lives in Brooklyn, New York.
Praise For Catastrophism: The Apocalyptic Politics of Collapse and Rebirth…
"This book provides a badly needed boost to our political immunity systems against the apocalyptic claims bombarding us in this purported terminal year for our planet."  —George Caffentzis, author, In Letters of Blood and Fire

"This is a controversial book that challenges many of the unexamined assumptions on the left (as well as on the right). It is a warning not to abandon everyday anti-capitalist politics for a politics of absolute fear that inevitably leads to inaction."  —Silvia Federici, author, Revolution at Point Zero

"A crucial guide to understanding our tumultuous times, while steering us away from the pitfalls of the past."  —Barbara Epstein, author, Political Protest and Cultural Revolution

"Anyone who wishes, as I do, for a new kind of (occupied) politics will have to face this formidable array of theoretically-inspired reflections on the politics of apocalypse."  —Andrej Grubacic, coauthor, Wobblies and Zapatistas

"Definitive and momentous, this book should be mandatory reading for everyone who wishes to comprehend the world we live in and change it for the better."  —George Katsiaficas, author, Asia's Unknown Uprisings
Advertisement