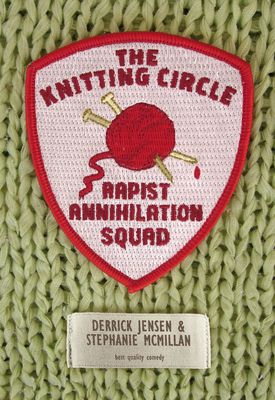 The Knitting Circle Rapist Annihilation Squad (Flashpoint Press)
Paperback

* Individual store prices may vary.
Description
In this darkly comic novel, the six women of the Knitting Circle meet every week to talk, eat cake, and make fabulous sweaters. The easy-going circle undergoes a drastic change when the members realize they are all the survivors of rape—worse still, that none of their attackers suffered consequences—and the group becomes the vengeful Knitting Circle Rapist Annihilation Squad, taking punishment into their own hands via their knitting needles. As the women take their revenge, groups of men issue statements against the vigilante ladies, from the Chamber of Commerce to the sinister Men Against Women Against Rape (MAWAR), plotting to stop and punish the Knitting Circle. Featuring strong female characters, this satirical piece explores love, revenge, feminism, violence, and knitting.
Praise For The Knitting Circle Rapist Annihilation Squad (Flashpoint Press)…
"Although some readers might smirk more often than laugh, there are plenty of spot-on, chortle-out-loud scenes and wonderfully deadpan whimsy." —Rosalie Morales Kearns, stirring.com
PM Press, 9781604865967, 160pp.
Publication Date: October 5, 2012
About the Author
Derrick Jensen is the author of numerous books, including Endgame, A Language Older Than Words, and This Culture of Make Believe. He lives in Crescent City, California. Stephanie McMillan is the author of As the World Burns, Attitude Presents Featuring: Minimum Security, and Mischief in the Forest. She lives in Fort Lauderdale, Florida.