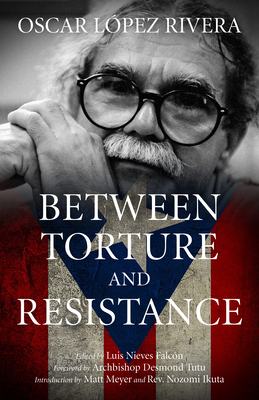 Oscar López Rivera
Between Torture and Resistance
Paperback

* Individual store prices may vary.
Description
The life story of Puerto Rican freedom fighter and leader Oscar López Rivera, outlined in this book, is one of courage, valor, and sacrifice. In 1981, Oscar was convicted of seditious conspiracy and other crimes for which he is still imprisoned, making him the longest-held political prisoner in the world. This is the story of his fight for the political independence of Puerto Rico based on letters between him and the renowned lawyer, sociologist, educator, and activist Luis Nieves Falcón. Also included is Oscar's art, including photography and paintings created in his many years behind bars. Readers will explore his early life as a Latino child growing up in the small towns of Puerto Rico, following him as an adolescent as he and his family move to the big cities of the United States. After serving in Vietnam and earning a Bronze Star, Oscar returned home and worked to improve the quality of life for his people by becoming a community activist, which led to his underground life as a Puerto Rican Nationalist and his subsequent arrest. With a vivid assessment of the ongoing colonial relationship between the United States and Puerto Rico, the book helps to illustrate the sad tale of largely unreported human rights abuses for political prisoners in the United States, but it is also a story of hope and his ongoing struggle for freedom for his people and himself—a hope that there is beauty and strength in resistance.
Praise For Oscar López Rivera: Between Torture and Resistance…
"This new book examines the broader political significance of López Rivera's case, while providing an unflinching look at how imprisonment and draconian policies like solitary confinement and no-contact visits affect prisoners and their loved ones." —Hans Bennett, Upside Down World

"Puerto Rico continues to be colonized, and Oscar Lopez Rivera's continued imprisonment reminds us of this." —peopleofcolororganize
PM Press, 9781604866858, 144pp.
Publication Date: February 14, 2013
About the Author
Oscar López Rivera is a Puerto Rican Nationalist who was convicted and sentenced to 70 years in prison for seditious conspiracy, armed robbery, and other various offenses and now holds the distinction of being one of the longest-held political prisoners in the world. His projected release date is in 2027. Luis Nieves Falcón is a renowned lawyer, psychologist, and sociologist, as well as a professor emeritus of the University of Puerto Rico and a longtime advocate for Puerto Rican human rights. His recent books include A Century of Political Repression in Puerto Rico: 1898–1998 and The Light from the Window: Conversations with Filiberto Ojeda Rios. He lives in San Juan, Puerto Rico. Archbishop Desmond Tutu is Archbishop Emeritus of the Anglican Church of South Africa and the recipient of the 1984 Nobel Peace Prize. Archbishop Tutu has long spoken out for human rights for all, and for the release of all political prisoners. He currently chairs The Elders, a group committed to dealing with the world's most intractable challenges and whose members include Nelson Mandela, Jimmy Carter, and Mary Robinson. Matt Meyer is the author and editor of six books, including Guns and Gandhi in Africa and Let Freedom Ring: A Collection of Documents from the Movements to Free U.S. Political Prisoners. He is an educator who has served as national chair for both the War Resisters League and the Peace and Justice Studies Association. He lives in Brooklyn, New York. Rev. Nozomi Ikuta is the pastor of Denison Avenue United Church of Christ.