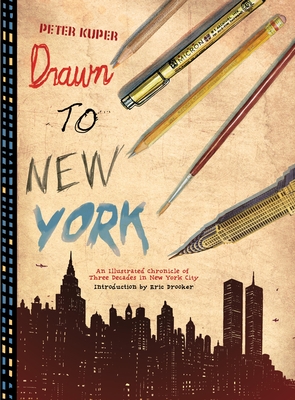 Drawn to New York (Hardcover)
An Illustrated Chronicle of Three Decades in New York City
PM Press, 9781604867220, 208pp.
Publication Date: June 1, 2013
* Individual store prices may vary.
Description
A declaration of love to Peter Kuper's adoptive city in which he has lived since 1977, this diary is a vibrant survey of New York City's history. Through Kuper's illustrations, this book depicts a climb to the top of the Brooklyn Bridge, the homeless living in Times Square, roller skaters in Central Park, the impact of September 11, the luxury of Wall Street, street musicians, and other scenes unique to the city. With comics, illustrations, and sketches, this work of art portrays everything from the low life to the high energy that has long made people from around the world flock to the Big Apple.
About the Author
Peter Kuper is a cofounder and editorial board member of political graphics magazine "World War 3 Illustrated" and a teacher who has taught at New York's School of Visual Arts and Parsons the New School for Design. Best known for drawing "Mad" magazine's Spy vs. Spy comic since 1997, he has also illustrated covers for "Newsweek" and "Time" magazine. He is the author of the graphic novel "Sticks and Stones," which won the New York Society of Illustrators Gold Medal, and "Diario de Oaxaca: A Sketchbook Journal of Two Years in Mexico." He lives in New York City. Eric Drooker is a third generation New Yorker, born and raised on Manhattan Island. His paintings are frequently seen on covers of the "New Yorker" magazine, and hang in various art collections throughout the United States and Europe. He is the author of two graphic novels, "Blood Song: A Silent Ballad," which won the American Book Award, and "Flood! A Novel in Pictures." He lives in Berkley, California.
Praise For Drawn to New York: An Illustrated Chronicle of Three Decades in New York City…
"Working in a variety of formats from watercolor to ink to paint, collage and pencils, Peter Kuper creates a deep, brilliant, beautiful, and colorful history of his time in New York City. The stories ring with humor, insight and tragedy."  —Mark Squirek,
New York Journal of Books
"That, perhaps, is the sign of a great New Yorker, and especially a great New York artist: The ability to love the city not despite its grit but because of it, to inhabit its struggles with dignity rather than disgust, with empathic curiosity rather than cruel gawking." —Maria Popova, Brain Pickings


"This collection of sketchbook pages and finished art brilliantly displays Kuper's fascination with the city he has called home for over four decades."  —Publishers Weekly
"As a cartoonist and graphic novelist, Kuper's art reflects the sequential grid that is Manhattan. Each window tells a story, and the rows of squares and infinite right angles form a map of one man's journey through the modern labyrinth. When viewed as a whole, Kuper's concrete visions of New York amount to an epic love poem."  —Eric Drooker
"Peter Kuper captures the city in various media with his vibrant and colorful art showing every facet of the ever-changing city from the bankrupt days of the late 1970s to its present state, chronicling and celebrating it." —Anne Telford, Illustration Voice
"Drawn to New York is Peter Kuper's New York, and anybody who's spent any time here, physically or otherwise, will recognize the energy and architecture, the grime and crowds, the beautiful humanity, the foods, odors, and sights. Love it or not, there's no place on Earth quite like New York City, and few people have captured it as effectively as Kuper." —www.newsarama.com
"A showcase of city and artist, with an interesting interplay between the two . . . the city shaped him. And in return, Kuper continues to pay tribute by making art that adds to the city's ever-evolving mythos."  —www.adastracomix.com
"Since illustrator Peter Kuper moved to New York City in 1977, he has witnessed countless incarnations of the Big Apple. His new book [...] collects comics, art and illustrations reminiscing on everything from taxi redesigns to pornographic movie theaters. [...] In this gallery, Kuper shares with
Bookish
fond memories of his adoptive home alongside selected art from the book."  —
Bookish